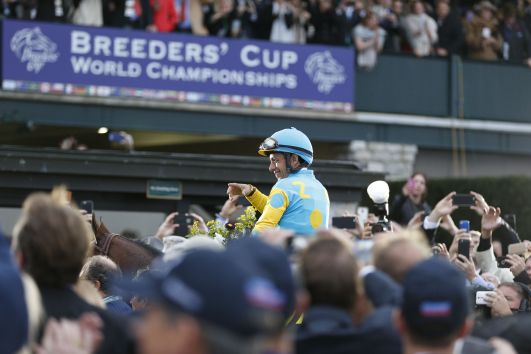 International horse racing event the Breeders' Cup has entered into a partnership with the Qatar Racing and Equestrian Club (QREC).
Under the terms of the agreement, the two parties will exchange presenting sponsor titles for a major race at their respective flagship events. The Breeders' Cup will be the named sponsor of the inaugural Dukhan Sprint at the upcoming HH Emir's Sword Festival, the three-day festival which takes place in Doha from 23rd February to 25th February. A representative of the American race will present the winning trophy.
At the 2017 Breeders' Cup World Championships at Del Mar Thoroughbred Club in San Diego, California, QREC will be the title sponsor of the Grade One Juvenile Turf Sprint Stakes on 4th November. A QREC representative will present the race trophy at American horse racing's season ending festival.
"We are thrilled to take this next step in expanding our relationship with the renowned Qatar Racing and Equestrian Club," said Craig Fravel, the president of the Breeders' Cup "As we look to ways to elevate our international presence with similar calibre thoroughbred racing leaders around the world, the Qatar Racing and Equestrian Club is a natural fit.
"We look forward to continuing to strengthen our relationship and encouraging the international Thoroughbred community to support and race in Qatar."
Nasser Sherida Al Kaabi, general manager of QREC, added: "The Breeders' Cup World Championship is one of the most iconic international race meetings in the World and the Qatar Racing & Equestrian Club is very proud to have formed this prestigious partnership.
"The HH Emir's Sword Festival is Qatar's flagship international race meeting of the year and we look forward to running the inaugural Breeders' Cup Dukhan Sprint on Saturday, 25th February, 2017."
The 2016 Juvenile Turf Sprint Stakes was won by the Wesley Ward-trained Con Te Partiro, who was ridden by celebrated veteran jockey Frankie Dettori.