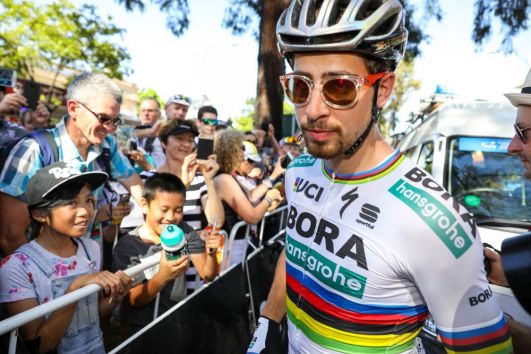 The Bora-Hansgrohe International Cycling Union (UCI) World Tour team have announced an extension of their partnership with their lead title sponsor.
Bora, a kitchen ventilation supplier, extends its contract with German-based team through 2021.
"It feels very good to have such a reliable partner like Bora on board," said Peter Sagan, reigning UCI world champion and team leader. "To know already that early, that the teams' future is secured, gives confidence to the whole team.
"That Bora extends shows that cycling is a good sport to interact with."
Ralph Denk, team manager, added: "With this long-term perspective, we'll have time to foster even more young talents, and support riders that grew up in our team like Emanuel Buchmann, Patrick Konrad, Gregor Mühlberger or Lukas Pöstlberger on their way to the top.
"It's up to me and my team to justify the trust given from Willi Bruckbauer and Bora, and to lead Bora-Hansgrohe into a successful future. From my point of view, this is also a sign towards German cycling – cycling sponsorships are truly worthwhile."
Willi Bruckbauer, founder and chief executive of Bora, said: "The possibilities that the sponsorship offers us fit perfectly into our marketing strategy. We are confident that we are on a very good way together with Ralph Denk's team, it is a perfect fit, we share the same ideas and we have common goals."