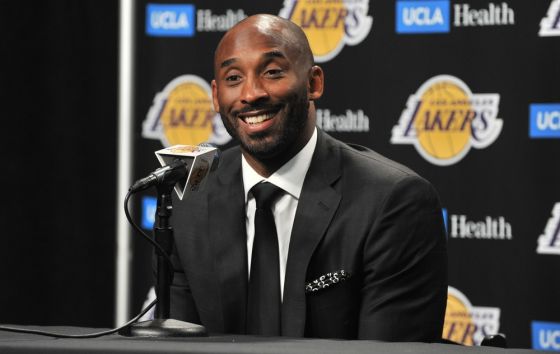 Coca-Cola has purchased a minority stake in upstart sports drink brand BodyArmor as part of a deal that allows for the company to assume full ownership in future.
Financial terms of the deal have not been released but ESPN's Darren Rovell reports that BodyArmor's lead investors, including retired basketball star Kobe Bryant, stand to make as much as 30 times their investment in the brand as a result of the agreement.
According to Rovell, Bryant, who now sits on the BodyArmor board of directors, has invested roughly US$6 million since he purchased an initial ten per cent stake in the company, which launched as a challenger to PepsiCo-owned US market leader Gatorade, less than four-and-a-half years ago.
Following Coca-Cola's acquisition, which enables BodyArmor to increase its production and expand distribution, Bryant's stake is now said to be worth approximately US$200 million, according to Rovell's sources.
Bryant, who has made a series of investments in other industries through his Kobe Inc. company, is now the fourth-largest investor in BodyArmor behind co-founder Mike Repole, Coca-Cola and Keurig Dr Pepper. BodyArmor is projected to surpass US$400 million in sales this year as it vies to take on Gatorade and Coke's own Powerade, which together have come to dominate the US sports drinks market.
Launched in 2011, BodyAmor has built its business in part by selling stakes to high-profile athletes such as reigning NBA MVP James Harden, big-hitting baseball slugger Mike Trout, star National Football League (NFL) players Andrew Luck, Rob Gronkowski and Richard Sherman, golfer Dustin Johnson, Women's National Basketball Association (WNBA) star Skylar Diggins-Smith, and soccer player Sydney Leroux Dwyer.
"Any brand can pay an athlete or celebrity to endorse their product, but when someone is an investor, it means they genuinely believe in the brand and want it to succeed as much as the people working there," Michael Fedele, BodyArmor's vice president of marketing, told SportsPro in a recent interview.
"Our athletes are also involved in our innovation, creative ideation for marketing and advertising campaigns and even sales. Because they are invested in the brand, they want to see BodyArmor succeed."
Repole, who previously sold his Glacéau brand of beverages to Coca-Cola in 2007 for US$4.1 billion, has said he wants BodyArmor to become America's top sports drink brand by 2025.
An interview with BodyArmor's Fedele appears in SportsPro's forthcoming Athletes Issue. To subscribe to the magazine today, click here.