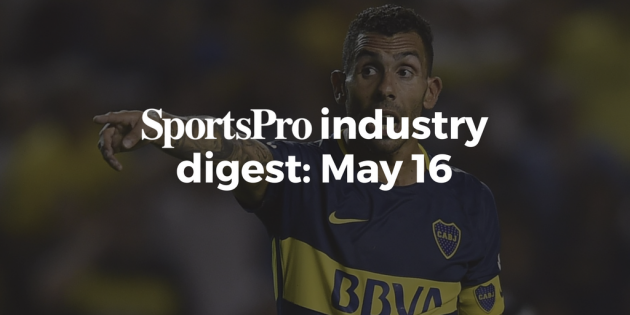 Top story
Argentine soccer giants Boca Juniors have signed a sleeve sponsorship deal with Axion.
The energy company has agreed a two-year deal with the Superliga club, which runs from July this year through to June 2020.
The Axion deal comes after Boca announced a new five-year shirt sponsorship deal with Qatar Airways to replace current main sponsor BBVA last week.
Agustín Agraz, director of corporate affairs at Axion Energy, told the Infobaewebsite: "We are very happy to announce this partnership with the Boca Juniors Club that allows us to accompany the sport and continue positioning Axion Energy throughout the country."
Sponsorship
Major League Baseball's (MLB) Washington Nationals have expanded their deal with Pentagon Federal Credit Union. The new three-year contract sees the federal credit union gain a designated "PenFed Military Appreciation Section" at right field of Nationals Park.
UCI Europe Tour cycling event, the OVO Energy Tour of Britain has announced Gusto Organic as its official sponsor of soft drinks and energy drinks at its 2018 event, as well as the OVO Women's Tour and Tour Series, the UK's biggest professional cycle race.
The FIA European Truck Racing Championship has announced a new partnership with parts manufacturer GRAMMER AG ahead of the series 2018 season.
English Super League outfit Leeds Rhinos have announced Planet-U as their official energy partner, in a deal that sees the renewable green energy company become supplier all energy at the rugby league club's Emerald Headingley Stadium home.
The International Volleyball Federation (FIVB) has entered into a partnership with US technology company Microsoft focusing on enhancing the fan experience on match days through digital initiatives.
In athletics, the Jamaica International Invitational Meet (JIIM) has secured a J$12 million (US$95,000) sponsorship deal with the Petroleum Corporation of Jamaica (PCJ).
Media Rights
According to a report in the New Zealand Herald, telecommunications company Spark is set to win the rights to England's soccer top tier, the Premier League, from the start of the 2019/20 season, for a three-year period.
Purpose Media has launched the official new digital streaming service for Middlesex County Cricket Club. The new site features a match centre and live match scorecard, with ball-by-ball updates, stats, graphs, wagon wheels, and action replays of all the action as the games unfold, along with a new live streaming service with audio commentary.
The streaming service of pay-TV giant ESPN, ESPNPlayer.com will deliver live and on demand coverage of the 2018 X Games Norway in the UK, and across Europe, Middle East and Africa (EMEA).
The International Motor Sports Association (IMSA) has signed a six-year partnership to secure a new US broadcast home for its flagship WeatherTech SportsCar Championship with NBC Sports.
UK free-to-air digital channel FreeSports has acquired domestic rights for the DTM German Touring Car Championship.
Personal Endorsement
New York Yankees shortstop Didi Gregorius is partnering with the MLB franchise's official made to measure suit, INDOCHINO, for the 2018 season.
Agencies
Super League, the top tier of club rugby league in England, has appointed the RDA agency as its exclusive agent for international media distribution rights.
Politics & Governance
Russia has been handed a place in the 2019 Rugby World Cup after Romania was ejected as part of sanctions also imposed on Spain and Belgium for rule-breaking during the European qualification tournament for next year's event in Japan.
Gate of the Day
The National Football League's Green Bay Packers are expanding their partnership with Kwik Trip that sees the Milwaukee convenience store chain become the new sponsor of the northwest gate at franchise's Lambeau Field home, as well as gain coffee and hot chocolate serving rights at the stadium. The gate was previously sponsored by Verizon Wireless. Fair play to the Packers' commercial team — they have essentially managed to commodify a door.
Our industry digest will update throughout the day as deals break so check back to make sure you do not miss a story