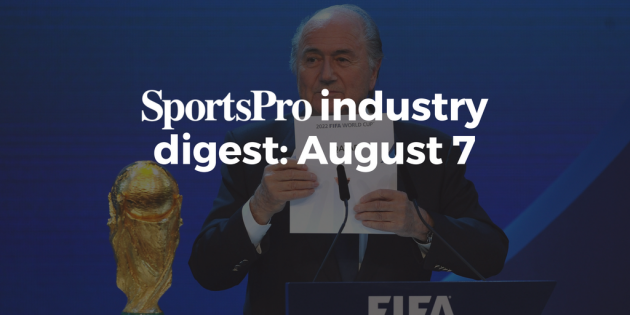 Top story
Sepp Blatter, the disgraced former Fifa president, has claimed Qatar's shock victory in the 2022 World Cup bidding race was a combination of a rule-breaking collusion deal and political pressure exerted on Michel Platini, the French executive committee (Exco) member.
In the 82-year-old's recently published book, Ma Vérité (My Truth), he says that his fellow Exco members ignored advice that Qatar was incapable of hosting a World Cup when they voted to award the competition to the Gulf state back in 2010.
The fallout from the hugely controversial bid process ultimately ended Blatter's 17-year reign as Fifa president and resulted in a six-year ban from soccer.
Blatter says "nobody" on the now defunct Fifa Exco read the detailed inspection report on the candidate countries, because they had all already made up their minds.
"If we had read them carefully, we would have seen that the World Cup could not be played in Qatar," he writes.
He claims Platini called him to say he had been pressed to change his vote during a lunch in 2010 with then French president Nicolas Sarkozy and Sheikh Tamim bin Hamad Al Thani, now the Emir of Qatar - an allegation always denied by Platini.
"I do not know and I do not want to know if there is a connection between the Qatar World Cup award and what happened next," writes Blatter, adding that the Qataris spent billions of euros in France on an aircraft contract and on buying top-flight soccer club Paris Saint-Germain.
Sponsorship
Spanish top flight soccer club Valencia have entered into a two-year, supply partnership deal with Hackett that sees the British menswear brand supply off-field clothing for the La Liga outfit.
In Italy, Italian soccer giants Roma have signed a deal with automobile seat specialists Sparco to supply dugout seats for the Stadio Olimpico for the next three seasons.
Top flight minnows Sassuolo have renewed their deal with ceramic production company Panariagroup for another season.
Elsewhere, Huddersfield Town have signed a deal with SciSports that sees the Premier League club gain acces to the Dutch data-intelligence company's player recruitment tools.
Over in Brazil, price comparison website Zoom has extended its shirt sponsorship deal with Fluminense and has become a new partner of fellow Campeonato Brasileiro Serie A outfit Vasco da Gama.
Formula One motor-racing team Mercedes have signed up Latin American leasing company UNIFIN as a partner for the Mexican Grand Prix for the next three editions until 2021.
The Football Association of Wales (FAW) and Nathaniel MG Cars have announced a new title sponsorship deal for the Welsh Premier League Cup that run for the next four seasons.
Media Rights
US network NBC Sports has launched a version of its Premier League Pass, a streaming service proving access to 150 matches from English soccer's top flight, for domestic pubs, bars, restaurants and other commercial properties for US$199-per season.
Sony Pictures Networks India media group has acquired domestic rights for the Uefa Euro 2020 national team soccer tournament.
The Saran Media agency has struck a three-year deal for exclusive rights for Serie A, the top division of Italian soccer in 14 Eastern European territories: Afghanistan, Armenia, Azerbaijan, Belarus, Estonia, Georgia, Kazakhstan, Kyrgyzstan, Latvia, Lithuania, Moldova, Tajikistan, Turkmenistan and Uzbekistan.
Italian state broadcaster Rai has added a highlights package to its deal for Serie B, the country's second soccer tier, adding to its weekly live Friday night match deal secured last week.
German National Olympic Committee's Sportdeutschland.tv online-streaming platform has acquired rights for the German 2. Handball Bundesliga second tier in a sublicensing deal with pay-television broadcaster Sky through 2020.
The National Football League's (NFL) Buffalo Bills have announced the plans for a four-episode docu-series to be streamed on Facebook Watch.
US sports broadcaster ESPN has become the first brand to be a member of Mediacorp Partner Network (MPN), a new digital collaboration initiative created by the largest Singapore broadcaster.
Personal Endorsement
PGA Tour golfer Jason Duffner has signed a partnership deal with elastic therapeutic tape brand KT Tape.
Sportswear brand Puma has announced that Indian cricket's star KL Rahul will become it latest ambassador.
Saving of the Day
Japanese Prime Minister Shinzo Abe has ordered his party to consider the merits of introducing daylight saving time during the Tokyo 2020 Olympic and Paralympic Games to ensure athlete safety. Temperatures in Japan last month reached a record 41.1C and there are fears for athlete safety during the Games in two years' time, which will be held in July and August.
Tokyo 2020 president Yoshiro Mori said: "I told him (Abe) that daylight savings is necessary not only for the Olympics, but it is also important from an international perspective in order to protect earth's current environment."
Our industry digest will update throughout the day as deals break so check back to make sure you do not miss a story