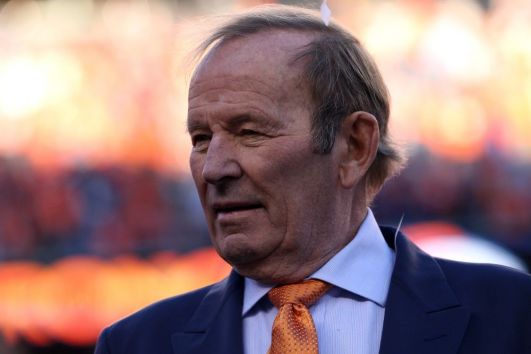 The Denver Broncos have become embroiled in an ownership dispute after Beth Bowlen, one of the seven children of owner Pat Bowlen, saw her effort to secure control of the National Football League (NFL) franchise rebuffed by the controlling trust.
The Broncos were placed into the care of the Pat Bowlen Trust in 2014 after the then 70-year-old resigned as controlling owner due to his battle with Alzheimer's disease. Beth Bowlen, 47, one of Pat Bowlen's seven children from two marriages, says it is the right time for her to succeed her father.
"I am ready right now," Beth Bowlen told the Denver Post newspaper. "I am also willing to move forward with a short transition and mentoring period with current Broncos leadership. But the time is right to move beyond the trustee arrangement.
"My proposal also includes long-term succession planning for all of the Bowlen children, with mentoring and a succession plan beyond me."
Beth Bowlen has received support from other family members, but the Pat Bowlen Trust, which is led by president and chief executive Joe Ellis, responded by stating she cannot take control at this point in time.
"Pat did not designate Beth as a trustee or appoint her to a leadership position, nor did he instruct the trustees to specifically mentor her," the Bowlen Trust said in a statement. "He made it clear that his children were not automatically entitled to a role with the team and that they would have to earn that opportunity through their accomplishments, qualifications and character.
"As trustees honouring the clear wishes of Pat, we have thoroughly evaluated whether Beth is capable of succeeding her father as controlling owner. We have determined that she is not capable or qualified at this time.
"We have communicated our decision to Beth and her lawyers on multiple occasions.
"Beth has declined our invitations to discuss her qualifications for the last two years, we will continue to proactively engage and meet with any of the Bowlen children who express a desire to earn the right to succeed their father."
Ellis added: "As a trustee and someone Pat designated to oversee his team, I have an enormous responsibility to carefully administer his succession plan and make decisions in the best interests of the Broncos. We will continue to follow Pat's blueprint - and nobody else's - while keeping our focus as an organisation on having a successful season."