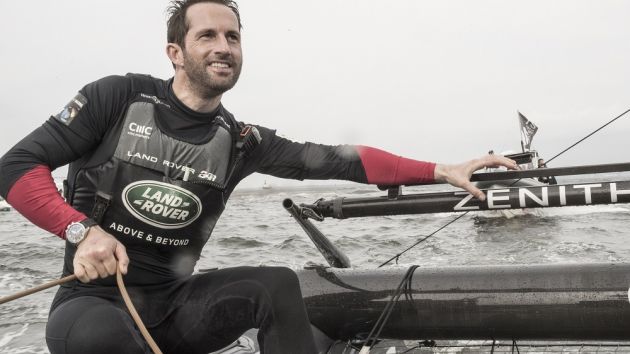 English sailing star Ben Ainslie has secured UK£110 million from British petrochemicals company INEOS to fund Britain's latest bid to win the America's Cup.
INEOS said it has formed INEOS Team GB with Ainslie, the most successful Olympic sailor ever, to compete for world sailing's preeminent event title, and is committed to making the biggest ever America's Cup investment by a British challenger.
Under the agreement, INEOS will be the only sponsor, meaning Ainslie has ended his partnership with Land Rover and other commercial sponsors. He will also no longer have support from private backers.
INEOS will use its technologies and manufacturing experience and skills to support Ainslie in developing an internationally competitive boat.
INEOS said Ainslie would skipper the racing yacht, with fellow British Olympic gold medallist Giles Scott serving as its tactician. Grant Simmer, who has won the America's Cup four times and was hired by Ainslie last year, will be the chief executive of the new INEOS Team GB and New Zealand's Nick Holroyd, another recent hire by the 41-year-old Briton, will be its chief designer.
INEOS Team GB will now represent the historic Royal Yacht Squadron's affiliated club, Royal Yacht Squadron Racing.
Britain has never won the America's Cup and Ainslie has made it his mission to "bring the Cup home". His first attempt last year in Bermuda ended in disappointment when it was won by New Zealand.
Ainslie had been building his Land Rover BAR team to challenge holders Team New Zealand in Auckland in 2021, but told Reuters last month that he needed more funding to build a state-of-the art 'foiling' monohull to take part.
Jim Ratcliffe, INEOS chairman, said: "The America's Cup is one of the world's most competitive yacht races and Britain has never won it, despite founding the competition over 150 years ago. With the team we have assembled, we believe we can get a fully competitive boat to the start line. After that it's all down to the fine art of sailing. Ben is arguably the best sailor that Britain has ever produced so we should have a fighting chance of success."
Ainslie added: "This is an amazing boost for British sport. With this significant commitment from INEOS to fully fund a two boat challenge, Britain now has its best opportunity to bring the America's Cup back home to Britain where it belongs."