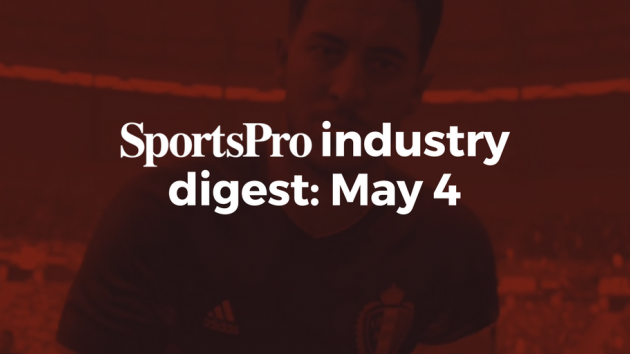 Top story
The Belgian Football Association (KBVB), the country's soccer governing body, has followed France to become the second national soccer association to create a national esports team for the Fifa title.
Following a 16-player invitational tournament on 6th May at the Belgian Football Center Tubize a four strong will be selected for their first international against France.
The first esports international will see the Belgium Edevils take on a French team composed of gamers Maestro, RocKy, DaXe and Herozia.
This match will be streamed live on Saturday 12th May on both YouTube and Facebook.
Sponsorship
The National Football League (NFL) and NFL Players Association are partnering with Cigna to host "Beyond The Physical: A Symposium on Mental Health in Sports" on 14th May. The forum aims to raise awareness around mental health and overall wellness.
English Super League rugby league club Hull Kingston Rovers has named Motordepot Car Supermarket as its new main shirt sponsor for the 2019 season.
World Surf League's upcoming Founders' Cup of Surfing event has signed Jeep as its exclusive automotive partner in multi-year deal.
The German Ice Hockey Federation (DEB) has renewed its sponsorship deal with real estate investment company the Westminster Group.
The Women's Gaelic Player's Association (WGPA) has announced a one-year renewal of its official partnership with mouthguard manufacturer OPRO.
The Association of Volleyball Professionals (AVP) has announced that the Craft Brew Alliance's Kona brand will become its official craft beer.
Media Rights
According to a report in the Daily Mail, Channel 4 have seen off competition from the BBC and Amazon to secure rights to all three of Wales national rugby union team Tests this summer. The UK free-to-air broadcaster will show Wales' match against South Africa in Washington DC, and the two Tests versus Argentina in South America.
Digital media platform, Motorsport Network, has agreed a partnership with the DTM German Touring Car Championship until the end of the 2018 season to produce and distribute short-form video championship news across the Motorsport.tv website amongst others.
Clothing brand Tommy Hilfiger has announced the launch of a documentary mini-series featuring Lewis Hamilton. #WhatsYourDrive episodes will be released in line with the races on the 2018 Formula One calendar.
Agencies
Special Olympics has appointed the Sport Collective to develop its commercial strategy and programme.
Digital technology acceleration platform, SPARK, has announce a new partnership with sports data and technology company, Sportradar. As part of the collaboration, Sportradar will support a range of SPARK events and offer SPARK's start-ups other benefits, including the chance to utilise Sportradar's bespoke sports data.
Bidding & Hosting
South Korea has landed its first major International Table Tennis Federation (ITTF) event, the city of Busan will host the 2020 World Team Championships.
Nightmare of the day
The first-ever US publicly traded cannabis company, Medical Marijuana, has announced National Football League (NFL) legend and Kansas City Chiefs fullback Christian "Nigerian Nightmare" Okoye as its new brand ambassador for its subsidiary Kannaway. Okoye will help spread awareness on the therapeutic benefits of cannabidiol (CBD) for athletes and those looking to lead a healthy, active lifestyle.
"I was sceptical at first but now I couldn't imagine life without them," said Okoye of Kannaway's CBD products. "I hope my story can help spread awareness of the benefits of CBD so that athletes like me can feel comfortable giving it a try."
Our industry digest will update throughout the day as deals break so check back to make sure you do not miss a story