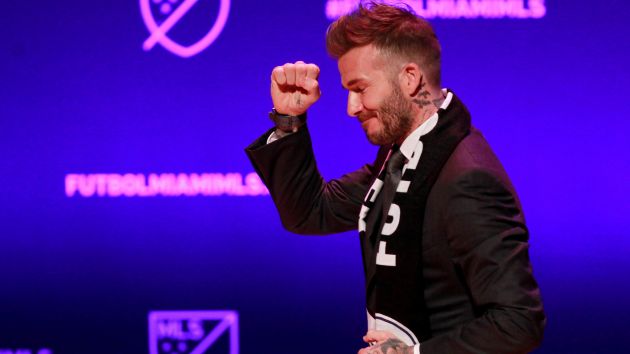 David Beckham's long-delayed efforts to establish a Major League Soccer (MLS) franchise in Miami have finally come to fruition, four years after the soccer icon selected the southern Florida city as the preferred site of his team.
The former England captain's franchise has not yet been named, nor is it known where or when it will begin play in MLS. Nevertheless, its long-awaited confirmation came during a media event at Miami's Adrienne Arsht Center on Monday.
The event was attended by MLS commissioner Don Garber, Miami-Dade County mayor Carlos A. Giménez, and Francis Suarez, the mayor of Miami. Members of Beckham's investment group - known as Miami Beckham United - were also in attendance, including Cuban-American billionaires Jorge and Jose Mas, the chairman and chief executive of Mas Tec respectively; Sprint chief executive Marcelo Claure; SoftBank founder and chief executive Masayoshi Son; and entertainment mogul Simon Fuller, Beckham's long-time manager and business partner.
"Our mission to bring an MLS club to Miami is now complete, and we are deeply satisfied, grateful and excited," Beckham, who becomes the first former MLS player to own a team in the league, said in a statement.
"Our pledge to our fans in Miami and around the world is simple: your team will always strive to make you proud on the pitch, our stadium will be a place that you cherish visiting, and our impact in the community and on South Florida's youth will run deep."
While it is not known when it will debut in MLS - a league statement said further details will be revealed in due course - Beckham's team will eventually play in a proposed 25,000-seater stadium, to be built at a cost of more than US$150 million in Miami's Overtown neighbourhood. Unconfirmed reports in the US say the team is scheduled to begin play at a temporary location in 2020, with their permament home opening a year later.
Speaking on Monday, Garber described Beckham's group of investors as "the dream team", adding: "This ownership is committed to bringing Miami the elite-level soccer team, stadium and fan experience it richly deserves. We look forward to working with the entire organisation on a strategic and successful launch for Miami's MLS club."
Monday's announcement comes after a drawn-out process blighted by a succession of setbacks including stadium location and financing issues, legal wrangling in the local market, and shake-ups in Beckham's investment group.
In December, the Miami-based Mas brothers - who tried unsuccessfully to buy the Miami Marlins baseball team last year - joined Beckham's group following the departure of Todd Boehly, the Los Angeles Dodgers co-owner who only joined the effort in April.
The arrival of the Mas brothers came amid reports MLS had been pushing for stronger local representation in Beckham's group, while some league executives were said to have had reservations about Boehly's apparent attempts to assume control of a team that would join MLS for a hugely discounted fee.
Beckham, now 42, negotiated the right to acquire an MLS expansion franchise for US$25 million when he joined LA Galaxy to become by far the league's most high-profile international signing in 2007. That sizeable discount has proved contentious among some league investors and has since become even more of a bargain, with MLS expansion fees having skyrocketed to around US$150 million.
For the past four years, the major sticking point in getting Beckham's team over the line has been local opposition to various stadium site's proposed by his group, not to mention Miami's challenging real estate environment. Having previously lost out on stadium sites in PortMiami, downtown Miami, and another near Marlins Park in Little Havana, Beckham and his fellow investors eventually secured a crucial deal in June to acquire a parcel of land in the city's Overtown district.
While a deal is in place, the Miami Herald reports that Beckham's group are continuing to explore 'the advantages and disadvantages of other sites'. In addition to the stadium, which is being designed by Populous, the group also plans to build a privately-developed training centre and an academy to develop local talent.
"Today is a proud day for Miami, and for our family," said Jorge Mas. "This is the first step in our quest to build one of the top clubs in MLS and the Americas. Our club will be innovative, and our stadium will deliver a world-class experience from the time fans leave home until the conclusion of the match.
"We will be relentless in our goal to win MLS Cup and other trophies. Our club will have a global vision but our fans in South Florida will always be our first priority reflecting the best of our community."
Expansion outlook
The rapid expansion of MLS - which was founded in 1993 ahead of the 1994 Fifa World Cup in the USA, and which began play in 1996 - has long been a barometer of soccer's growing popularity in North America, not only among fans but also among wealthy investors and corporations.
No fewer than 13 clubs have joined the league since 2007, while MLS has added teams in New York, Orlando, Atlanta, Minnesota, Los Angeles and, most recently, Nashville in the time since Beckham picked Miami as the home of his team in early 2014.
The addition of Beckham's franchise takes MLS to 25 teams, three away from Garber's stated aim of expanding to 28 in the coming years. It also comes with the league enjoying record attendances - last year, MLS averaged more than 22,000 fans per game for the first time.
Ahead of its 22nd season, which kicks off in March, MLS remains in the midst of an expansion process that saw four cities shortlisted from an original list of 12 towards the end of last year. The league's approval of Nashville's bid in December left Cincinnati, Detroit and Sacramento vying for the remaining slot, which is expected to be awarded in the coming weeks.
Other interested parties in Charlotte, Raleigh, Tampa/St Petersburg, Indianapolis, San Antonio, Phoenix, St. Louis and San Diego remain in the running for the following round of expansion. However, Monday's approval of Beckham's team is likely to have scuppered Tampa's chances, with MLS deemed unlikely to base a third franchise in Florida.
Miami, with its large Hispanic population and famed beach lifestyle, has long been seen as an ideal soccer market, yet MLS has tried and failed there before. The league's Miami Fusion franchise debuted in 1998 before folding after just four seasons due to poor attendance.