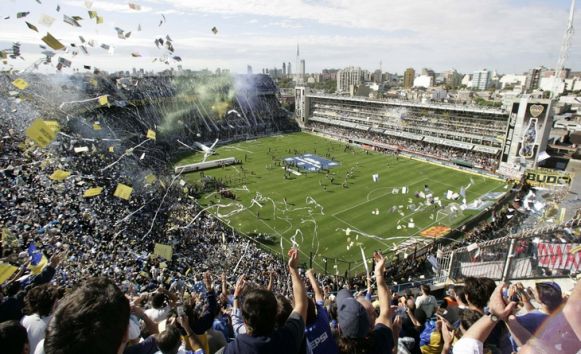 BBVA Francés, the Argentinean arm of Spanish banking giant Banco Bilbao Vizcaya Argentaria (BBVA), has agreed landmark sponsorship deals with two of the country's most successful soccer teams, Boca Juniors and River Plate.

Under the terms of the deals, BBVA Francés' logo will adorn the playing shirts of both Buenos Aires-based clubs until 2014, however the River Plate deal will officially commence on 1st July.

The firm will pay around US$4.5 million a year to Boca Juniors, while River Plate will receive US$3.5 million a year. The deals mark the first time since 2001 that the same sponsor has featured on the shirts of both clubs. For five years up until then beer brand Quilmes held the position.

Boca Juniors are the reigning champions of the Argentine Primera División, while with 33 titles River plate are the most successful side in the history of the country's top soccer league.
As part of the agreements, BBVA customers will receive opportunities to buy tickets and shirts in advance, discounts on merchandise and other benefits.

Martín Zarich, innovation and development director for BBVA Francés, said: "We are proud to add an Argentine chapter to our soccer history, and especially the partnership with Boca Juniors. To see our brand in the gold stripe is the best way to begin the year and allows us to continue to offer more benefits for our customers and for the club's supporters."

Alongside a number of basketball commitments, BBVA's soccer portfolio includes a title sponsorship deal for Spain's top division, La Liga, while its American sister company, BBVA Compass, recently signed a naming rights agreement for MLS side Houston Dynamo's new stadium.
---
Picture shows Boca Juniors' La Bombonera stadium prior a local derby against rivals River Plate.
---