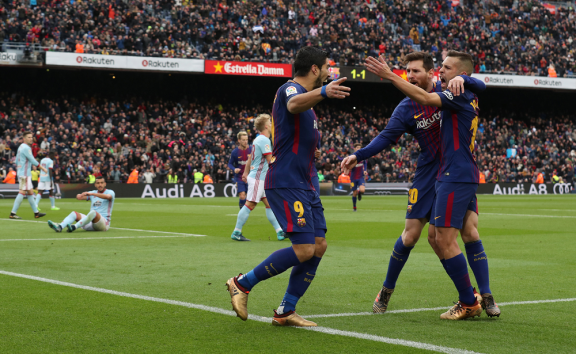 Spanish top-tier soccer side Barcelona FC have signed a partnership with the International Paralympic Committee (IPC) and the Agitos Foundation.
The foundation, which is the development arm of the IPC, implements projects to provide pathways into grassroots and competitive para sport, using sport to facilitate inclusion.
It will work alongside Barcelona's corporate social responsibility organisation, the FC Barcelona Foundation, as well as the IPC, to grow sports projects that achieve social inclusion for people with impairment.
The collaboration includes the development of Agitos' 'I'mPossible' programme, which was launched globally on 3rd December.
FC Barcelona Foundation's programme for children with an impairment, developed under the name FutbolNet, uses soccer as a tool to promote positive values among young children through teaching methodologies, and will also be brought into the collaboration.
New content that includes five para sports will give recommendations for the inclusion of people with impairment in order to overcome barriers to their active participation.
"The Agitos Foundation is very pleased to announce this partnership with the FC Barcelona Foundation as both organisations share the vision that sport is a powerful tool to promote a more inclusive society," said Xavier Gonzalez, chief executive of the IPC. "We look forward to this fruitful collaboration and we are sure that this exchange of knowledge will help continue changing society's perceptions toward people with impairment."
"I am very happy to sign this agreement, so the three organisations can improve the lives of boys and girls with an impairment through sport," added Jordi Cardoner, vice president of FC Barcelona and the FC Barcelona Foundation. "This agreement will also allow us to complement our FutbolNet methodology and achieve better results to integrate people with impairment within our programmes."
Andrew Parsons, president of the IPC, said: "I am delighted to see the partnership kick off with this synergy between the organisations. Thanks to the global reach of the FC Barcelona Foundation, youngsters from around the world taking part in FutbolNet activities will also learn more about the Paralympic Movement and the Paralympic values of courage, determination, inspiration and equality."
FC Barcelona are five points clear at the top of La Liga in 2017/18, after claiming 11 wins from 14 games. Barça drew 2-2 with tenth-placed Celta Vigo on 2nd December, and will host Portuguese Primeira Liga outfit Sporting Lisbon in the Uefa Champions League on Tuesday.