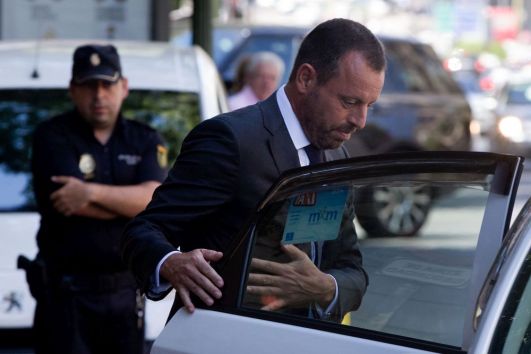 A report in Spanish-language digital newspaper El Confidencial has claimed that former FC Barcelona president Sandro Rosell personally financially benefitted from the club's partnership with Qatar Sports Investments (QSI).
Rosell was president of the Spanish soccer giants when Qatari state-backed QSI agreed to become the club's first ever shirt sponsor in 2010. The Qatar Foundation paid £125 million to feature on the front of Barcelona's playing jerseys.
However, according to the newspaper report, the agreement included several clauses that targeted the Aspire Academy, a Qatar-based sports initiative. Aspire was, at the time, a major client of Bonus Sports Marketing (BSM) that Rosell had founded in 2002.
Among the claims made by El Confidencial, is that the club's first team had to travel to Qatar at the end of each season. The youth teams also had to visit the Aspire Academy in Qatar, while teams from Aspire were then invited to train in Catalonia.
When the sponsorship deal between Barcelona and QSI was announced in December 2010, Rosell claimed to have sold BSM in order to avoid a conflict of interests. However, a federal police investigation into Rosell showed that the sale was artificial and that BSM continued to receive money from Qatar. The investigation also showed that a BSM colleague of Rosell assisted in negotiating Barcelona's deal with QSI.
According to a Guardia Civil report: "[Aspire] represented 70 per cent of the income for BSM so, after verifying that the sale [of the firm] was fictitious and always managed by Rosell, it can be assured that when he signed the deal on behalf of the club, it was benefiting BSM and consequently himself."