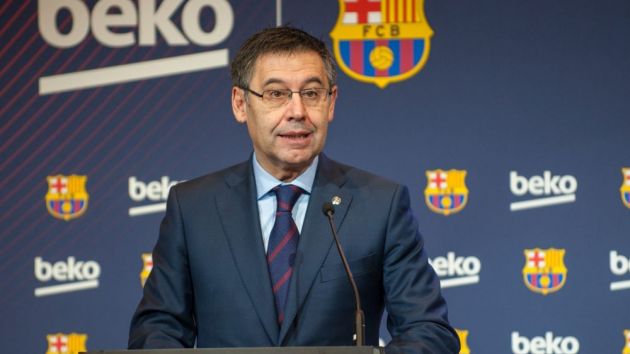 Barcelona president Josep Maria Bartomeu has had his say in the debate over controversial plans to stage Spanish soccer matches in the United States, arguing that clubs have "an obligation to promote the league".
Speaking on Spanish radio program El Transistor, Bartomeu remained unsure whether a match between Girona and Barcelona in Miami early next year would take place, stating there would only be a match if an agreement could be reached with the relevant parties.
He said: "I do not know if Girona vs Barça will be played in Miami. La Liga proposed that we play a match abroad and it seemed a good idea. We have an obligation to promote the league. You have to get closer to the fans and find new streams of income. Playing a match abroad would help us."
The scheme to take Spanish top-flight games to America first surfaced last month when La Liga signed a 15-year deal with sports and entertainment company Relevent Sports in an attempt to increase revenue and popularity in North America.
However, the proposals have been met with resistance by the Royal Spanish Football Federation (RFEF) and Fifa president Gianni Infantino, who have previously raised concerns over protecting the integrity of the competition and the growth of domestic football in the United States.
Bartomeu feels that it is for the good of the league that the plans, put forward by La Liga president Javier Tebas, are approved as it looks to compete with the Premier League as the 'best league in the world'.
"It is important to be able to remain competitive, it is important to have more income as a competition, and it benefits the lower budget teams, when we enter more La Liga [clubs] we can distribute more money to the rest of the teams," he said.
"It's about continuing to promote football in the United States, the 'Barça brand', and have more income and to continue competing with those 'club-states' that exist in Europe and with the Premier League, which is the best at the level of income."
Tebas hit back at Infantino on Twitter, comparing La Liga's desire to play a game in the US as akin to Major League Soccer (MLS) having teams from Canada.
A fixture between Girona and Barcelona is expected to be the first league game to be played outside of Spain on 27th January, although plans are still subject to approval with talks ongoing.