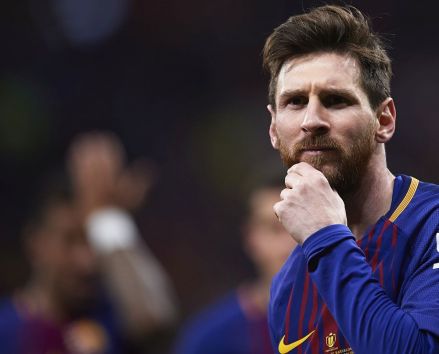 Spanish soccer giants FC Barcelona have been ranked as the world's top club based on the value of their sponsorship deals, according to US business publication Forbes.
The La Liga champions have an annual sponsorship income of US$247 million, US$45 million higher than Manchester United (US$202 million), the next club on the list. Barca are the only club in the top three of the Forbes list to see their 2018 figure increase from 2017, rising by US$15 million.
United, who still lead their Premier League rivals by some distance despite not having a lucrative sleeve-sponsorship deal in place, move up from second to third. However, Forbes estimate their sponsorship revenue is down by US$12 million on 2017.
Real Madrid, who swap places with United in a year they won their third consecutive Uefa Champions League title, are third on the list with US$200 million, which is down US$16 million on the club's 2017 figure.
Madrid and Barcelona are the only two Spanish clubs on a list dominated by teams from English soccer's Premier League. United are joined by English champions Chelsea (US$148 million), Arsenal (US$89 million), Liverpool (US$82 million), Manchester City (US$77 million), and Tottenham Hotspur (US$74 million).
However, only four of the top ten remain on the list of the world's most profitable sports teams. Neither Barcelona nor Real Madrid feature at all, though Manchester United remain second on the list with an operating income of US$254 million.
That is dwarfed, though, by the Dallas Cowboys. The National Football League (NFL) team owned by businessman Jerry Jones sit at the top of the Forbes league table with profits of US$350 million.