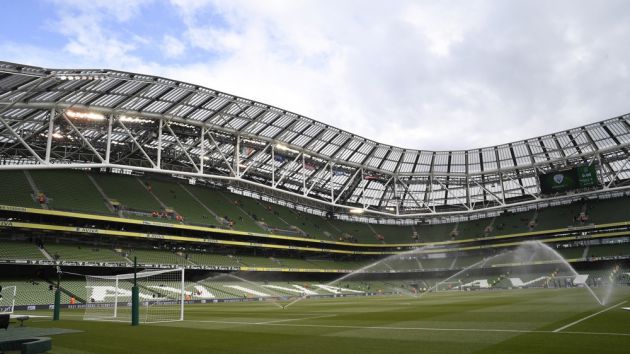 Insurance company Aviva has announced that it has extended its naming rights deal for the Aviva Stadium in Dublin, Ireland.
The new five-year agreement ensures that the 51,000-seater venue, which hosts international soccer and rugby union, will keep its current name until 2025.
Aviva Ireland has been a partner of the Irish Rugby Football Union (IRFU) and the Irish Football Association (FAI) since 2010, and the initial naming rights contract was due to expire in 2020. The company also supports the two bodies' respective grassroots programmes, Mini Rugby Festivals and Soccer Sisters.
"The Aviva Stadium is an Irish icon, one of the world's great stadiums," said Mark Wilson, chief executive of Aviva. "It is the home of many Irish victories and wonderful sporting drama. We are delighted to extend our sponsorship for a further five years and continue our successful association with the FAI and IRFU in support of Irish football and rugby."
Philip Browne, chief executive of the IRFU, said: "Aviva has been a great supporter of Irish rugby over the past eight years and we look forward to further developing our partnership in the years to come.
"Aviva continues to make a significant investment in the grassroots of our game supporting the growth of our minis programme, as well as supporting the national team and of course the home of Irish rugby, the Aviva Stadium."
John Delaney, chief executive of the FAI, added: "It is fantastic for the FAI to extend our partnership with Aviva Ireland and maintain that connection with the home of Irish sport. Since the Aviva Stadium was redeveloped, we have enjoyed some terrific days there with our Republic of Ireland teams, men's and women's domestic cup finals, international club games, and numerous grassroots events. This shows that our national stadium caters for all levels of Irish Football.
"We look forward to working with Aviva Ireland, the staff at the Aviva Stadium, and the IRFU over the next five years as we continue to provide the best possible experience for our supporters, stakeholders, and partners