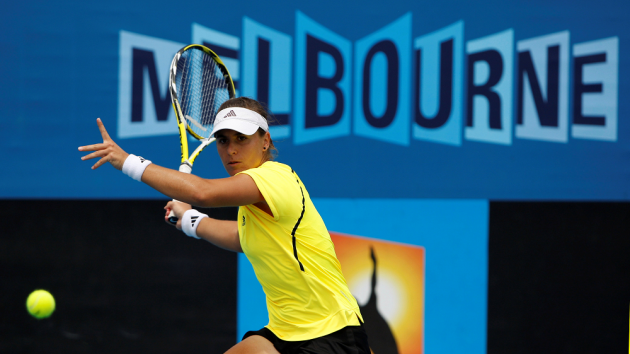 Vegemite has announced a partnership with Tennis Australia to sponsor the 2018 Australian Open.
The Australian food spread brand, owned by dairy company Bega Cheese, will be the official 'ballkid' partner of the Grand Slam tennis tournament.
The deal will see Vegemite fuel the Australian Open ball girls and boys throughout their training and official duties.
The final 350-strong 'ballkid' squad for the Australian Open includes 18 individuals from Australia, and 28 international members from France, China and Korea.
"I've grown up eating Vegemite and now travel the tennis circuit with a tube of Vegemite in my luggage," said Ashleigh Barty, the Vegemite ambassador for the Australian Open ball boys and girls. "I'm excited to work with such an iconic Australian brand and to support the Australian Open ballkids, who are so important to the success of the tournament."
"Our ballkids are an integral part of the Australian Open and are vital to ensuring the matches run smoothly," added Craig Tiley, tournament director of the Australian Open. "We receive more than 2,500 applications and the desire to be involved in one of the world's best ballkid programs increases year-on-year.
"It's an incredible opportunity for the kids. Not only do they have the chance to be on court alongside the world's best tennis players, they develop great teamwork and communication skills. It's an extraordinary experience for them and something they will remember for a lifetime.
"We are delighted Vegemite has come on board with the Australian Open and can't wait to see what they have in store".
"Vegemite can't wait to kick off the partnership with the Australian Open ballkid squad, who are one of the most visible assets of the entire tournament," said Adam McNamara, general manager of Bega Cheese. "The Australian Open is such an iconic event and by fuelling the ballkids we will also be showcasing Australia's most loved spread to world.
"The Vegemite brand is focused on vitality, with Vegemite being one of the richest sources of B vitamins, we are thrilled to be helping fuel the ballkids in 2018."
The 106th edition of the Australian Open is due to take place at Melbourne Park from 15th to 28th January 2018.