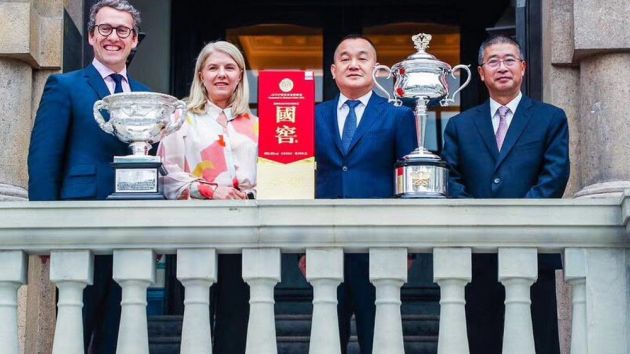 The Australian Open Grand Slam tennis tournament has announced the 'largest Chinese sponsorship deal' in its history with liquor brand Luzhou Laojiao.
The financial terms of the agreement have not been made public, but Tennis Australia's (TA) chief revenue officer Richard Heaselgrave did reveal that he had signed "one of the largest deals that Tennis Australia has ever negotiated". He added that the Luzhou Laojiao tie-up was "definitely within the ballpark" of the partnership TA has with its major sponsor Kia, which is worth a reported AUD$85 million (US$60 million) over five years.
The announcement coincided with news that prize money for next year's edition of the event has climbed ten per cent to AUD$60.5 million (US$43 million). It was announced Luzhou Laojiao will become an associate sponsor of the event billed as the 'Grand Slam of the Asia-Pacific' for the next five years.
As part of the deal, which was announced in Shanghai, Luzhou Laojiao will benefit from global exposure and brand engagement through international broadcast visibility, while its products will be on offer throughout the tournament's hospitality areas.
The announcement sees TA continues to expand its efforts in the Asia-Pacific. The national governing body has set up offices in Shanghai and Hong Kong in recent years, where local specialists work to develop and operate various Australian Open-related events throughout the year.
Heaselgrave added: "We've made no secret that China and the region are a major priority for the Australian Open, and that we take our role as the Grand Slam of Asia-Pacific seriously."
TA chief executive Craig Tiley also told The Australian newspaper: "It is an incredibly exciting time in our business. This is far and away the most significant deal we have ever done in China. Indeed, it is one of the biggest partnership deals we have done. It helps us push very strongly into the next phase of our global business growth."
Liu Miao, chairman of the board at Luzhou Laojiao, which through the deal has become the first Chinese Baijiu brand to join forces with a tennis Grand Slam, said: "In the future, we will work closely together with the Australian Open in promoting the sport of tennis, establishing sports charity programs, and building a stronger consumer base to activate this comprehensive, multi-dimensional and long-term collaborative partnership, as well as to enhance our communications with our global consumers, and further expand the brand influence of Luzhou Laojiao in the world."
The 2019 Australian Open is scheduled to take place from 14th to 27th January, when Roger Federer and Caroline Wozniacki will be looking to defend the titles they won earlier this year.