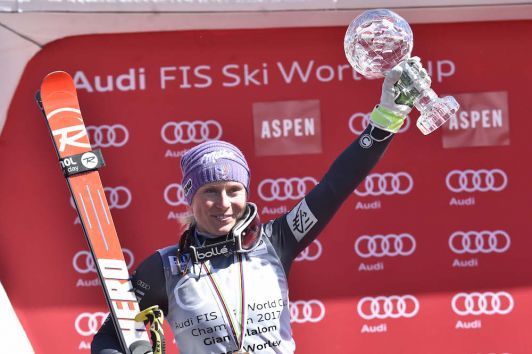 German carmaker Audi has extended its title sponsorship of the FIS Ski World Cup until 2022.
The new deal represents an early renewal of a partnership that has been in place since 2002, with Audi's previous contract, signed in 2012, due to run until the end of next year.
Financial terms have not been released but Audi's previous deal, thought to be the biggest ever signed by the International Ski Federation (FIS), was estimated to be worth nearly €5 million (US$6.5 million) per year.
A major backer of winter sports worldwide, Audi has used its flagship partnership with the FIS to promote its all-terrain Quattro brand. As well as elite alpine skiing, the company also sponsors the FIS Ski Cross World Cup and other FIS-sanctioned events in the Nordic disciplines.
Confirmation of the new agreement comes on the eve of this weekend's season-opening FIS Ski World Cup event in Sölden, Austria.
"We are pleased to be able to announce the prolongation of this long-lasting and successful partnership right before the start of the Olympic season," said Thomas Glas, the director of sports marketing at Audi.
"This allows Audi to be and stay the leading partner of international winter sports. Our role as the title sponsor of the FIS Alpine World Cup is one of the highlights of our extensive engagement."
Title sponsorship guarantees Audi extensive branding at all races in the FIS Ski World Cup calendar, including on the starting gates, the podium and interview backdrops.