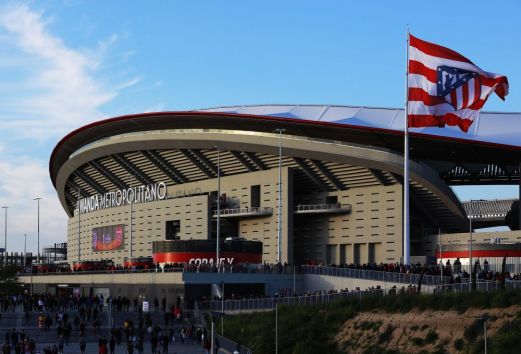 The Superior Court of Justice of Madrid (TSJM) has annulled the urban planning decree that allowed Atlético Madrid to buy the Wanda Metropolitano Stadium that was approved by the Spanish capital's city council in 2016.
A legal challenge made by a supporters' group associated with the La Liga club, Señales de Humo (Signs of Smoke), argued the ruling was not "in accordance with law" on seven grounds, six of which were upheld by the TSJM.
Without knowledge of the scope of the judicial resolution, no scenario can be ruled out for the implications to Atlético. The club have stated their intention to appeal the TSJm ruling to the Supreme Court within the 30-day limit and maintain that they retain ownership of the land, saying they will work with the authorities to resolve any administrative issues.
The TSJM has ruled there was a "deviation of power" by the Madrid City Council in changing the designated land use on which La Peineta - later renamed Wanda Metropolitano - was based. The 2016 ruling changed the site from a public sporting site to a private sporting site, meaning that Atlético could buy the plot, until then a municipal property.
Señales de Humo also argued that a "misclassification" of the land had been made, considering it consolidated urban instead of unconsolidated urban since the development had not yet concluded. Likewise, the group maintained that "illegal compensations" had been made in the fulfilling public interest measures, that the noise law had been violated and that the development lacked a gender impact report.
"In the only point where they do not give us the reason is in the car park," said José Luis Sánchez, president of Señales de Humo. In its appeal, the organisation argued that since the stadium development was ​​151,000 square meters it should have featured 2,272 parking spaces instead of the 1,092 that were put in place.
The original December 2016 ruling by Madrid city council, approved in an extraordinary plenary session, saw the immediate modification of the General Urban Plan (PGOU) to replace the qualification of the land on which the publically owned La Peineta had been built to a private sports facility and thus allowed Atlético to acquire it.
Subsequently, this change in planning was endorsed by the Urban Planning Commission of the Community of Madrid and finally, in May 2017, the land was sold to Altéti for €60 million with half of that funding access roads and the construction of a 4,000 space public car park.