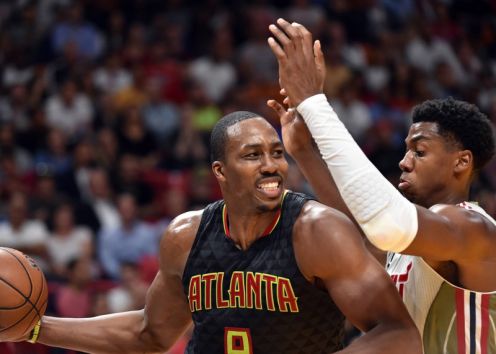 The Atlanta Hawks have announced a multi-year sponsorship deal with local healthcare provider Sharecare that includes jersey branding.
The National Basketball Association (NBA) franchise, whose senior executives confirmed the agreement at an event on Thursday, become the league's 13th team to agree a jersey patch sponsorship ahead of the new season.
Atlanta-based Sharecare, founded in 2010 by Jeff Arnold, a lifelong Hawks fan, and Mehmet Oz, is a digital app that provides users with personalised information about their health.
Described by Arnold as "the future of healthcare", the app rewards users for maintaining their health and wellbeing. Through the app, users can accumulate points or 'green days' and then, under the new partnership, convert those points into rewards such as free Hawks tickets, merchandise and other experiences.
As part of the deal, brokered by the WME | IMG agency, Sharecare will also have a dedicated activation area and signage at the Hawks' Philips Arena, as well as a presence on the team's various media platforms.
According to Hawks chief revenue officer Andrew Saltzman, the deal with Sharecare is the team's second largest commercial deal, behind their arena naming rights deal with Philips.
NBA teams are able to sell a 2½-by-2½-inch patch on the left shoulder of their jerseys for the first time as part of a three-year pilot scheme introduced by the league last year. Industry insiders estimate the agreements to be worth anywhere between US$5 million and US$10 million per year.
The other 12 teams that have already secured jersey sponsors are the Philadelphia 76ers (StubHub), Boston Celtics (General Electric), Sacramento Kings (Blue Diamond Growers), Orlando Magic (Disney), Cleveland Cavaliers (Goodyear), Minnesota Timberwolves (Fitbit), Utah Jazz (Qualtrics), Brooklyn Nets (Infor), Toronto Raptors (Sun Life Assurance Company), Detroit Pistons (Flagstar Bank), Denver Nuggets (Western Union) and Milwaukee Bucks (Harley-Davidson).