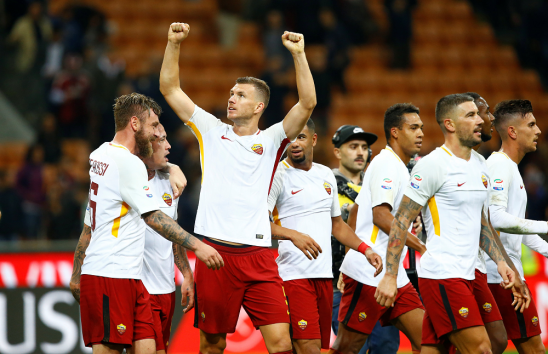 Top-flight Italian soccer side AS Roma have partnered with Hong Kong-headquartered retail company EZ Football and Neapolitan coffee brand Caffé Kimbo.
The new agreement with EZ Football sees the Asian company work with the Serie A team for the 2017/18 season. The financial details of the deal have not been disclosed.
Roma fans across Asia will be able to buy official club products through the EZ Football online store.
Initially, the store is to supply Nike products from the current season, but it will expand to include the Italian outfit's entire kit range.
Meanwhile, Caffé Kimbo will be the club's official coffee partner until 2020.
The brand will supply its beverages at the team's Stadio Olimpico home, as well as at the Fulvio Bernardini Sports Center in Trigoria, for the next three league seasons.
Under the terms of the new agreement, Kimbo will collaborate with AS Roma on a number of initiatives, and will see its branding displayed around the side's home ground on LED screens and across their social media channels.
The coffee company currently sponsors 16 Italian soccer sides across Series A and B.
"With this new important alliance, we wanted to show the closeness to Rome, a square where the consumption of Kimbo coffee is strong," said Alessandra Rubino, managing director of Kimbo. "AS Roma is one of the most authoritative and iconic symbols of the city and its territory, an expression of energy and passion. Kimbo and AS Roma have in common the ability to give emotions to their fans, and consistently seek new levels of excellence.
"With this new partnership, Kimbo continues its commitment to the world of football, which is very important for the company: a coffee break is a daily rite that accompanies Italians both at home and away, at the bar and in office, just like football."
"We are delighted to be able to welcome an Italian company so close to sports as Kimbo," added Luca Danovaro, chief marketing officer of AS Roma. "Thanks to this new collaboration, we are confident that we will be able to field many high-profile activities for our fans, which has always been one of our main goals."
AS Roma claimed second place in Serie A in 2016/17. Their 2017/18 season has kicked off with five wins from six games, most recently with a 2-0 victory at AC Milan on 1st October. They will host Napoli on Saturday.