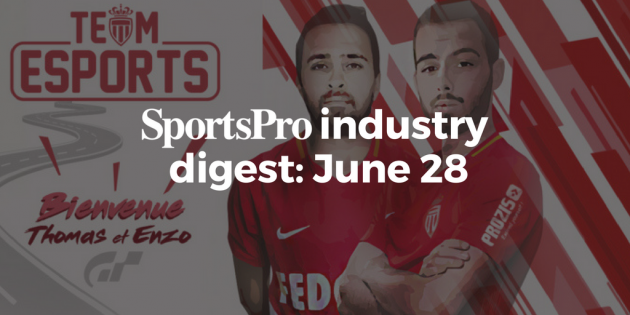 Top story
French soccer club AS Monaco have signed a sim racing gamer to their esports team to compete on Gran Turismo.
By signing Enzo Philippau, 21, Monaco have become the first traditional soccer club to back esports sim racing. Monaco say the move is 'natural' with motorsports having made a 'major contribution to the Principality's international profile for over a century'.
As well as signing Philippau the club have added coordinator Thomas Masnière, a specialist in sim racing since 2011, to their esports technical staff.
Sponsorship
The National Football League's Washington Redskins have announced that they have extended their official primary and secondary ticketing partnership with Ticketmaster through the 2018 season.
French soccer giants Olympique Marseille (OM) have secured a new sponsorship with Française des Jeux (FDJ), a domestic lottery, in a four-year deal worth €500,000 annually.
Essex-based housebuilder Weston Homes has signed a five-year platinum sponsor partnership with English county cricket outfut Essex CCC.
UCI Continental cycling team Fortuneo-Samsic have announced that they have signed a deal with BH to supply the team's bikes for the upcoming Tour de France and throughout the rest of the season.
SAP, the enterprise application software company, has extended its partnership with World Sailing, the international governing body for the sport, to become the official technology partner of this summer Sailing World Championships in Aarhus, Denmark.
Wanda-owned triathlon promotion Ironman has announced that Subaru Canada is returning as title sponsor of all its events in the North American country.
Media Rights
Nova Sports, the pay-TV digital satellite broadcaster in Greece, has retained rights to French soccer's Ligue 1, along with rights to cup compeititions Coupe de la Ligue, the Trophée des Champions, and Coupe de France, for the 2018/19 season.
UK-based digital out of home advertising company Ocean Outdoor has agreed a partnership with the All England Lawn Tennis Club which will see highlights from Wimbledon shown across Ocean's full-motion large-format screen portfolio, with the singles finals aired in full on a big screen London's Westfield shopping centre.
Personal Endorsement
Twitch's most popular esports streamer Tyler "Ninja" Blevins is partnering with the Kyrie Irving-backed PSD Underwear brand for his Blevins' own themed underwear line.
In a groundbreaking move, Stacy Lewis' main sponsor, KPMG, is paying the LPGA golfer the full value of her contract this season despite the fact she's going on maternity leave next month.
SmartSeries
AXS has announced the launch of its first price-capped secondary ticketing platform in the UK, signing up AEG's London sporting venues the O2 and SSE Arena Wembley as the first partners. The new platform caps re-sale ticket prices at a ten per cent increase on face value and offers other security protections for buyers and sellers.
Investment
Comcast Spectacor, the owner of the National Hockey League's Philadelphia Flyers and Overwatch League team Philadelphia Fusio, has invested in N3rd Street Gamers, an esports network focused on amateur players across the US.
Major League Soccer's (MLS) FC Cincinnati have announced plans for a US$30 million training complex in Clermont County.
Bidding & Hosting
The UAE will continue to remain the 'home' of Pakistan cricket in the near future after the Pakistan Cricket Board (PCB) and the Emirates Cricket Board (ECB) arrived at an agreement to maintain their current relationship.
Politics & Governance
The International Basketball Federation (Fiba) has signed off on a licensing deal for the 2019 World Cup in China and also revealed plans to open a new basketball academy in the country.
Tokyo, Japan's capital and host of the 2020 Summer Olympics, passed a tough anti-smoking law on Wednesday that will effectively ban smoking in most of the city's bars and restaurants in the run-up to the games.
Flight of the day
In the wake of Germany's shock World Cup exit at the hands of South Korea, a result that put Mexico into the knockout rounds, Aeroméxico is now advertising a 20 per cent off discount on flights from Mexico to South Korea. An offer we can all get on board with.
Our industry digest will update throughout the day as deals break so check back to make sure you do not miss a story