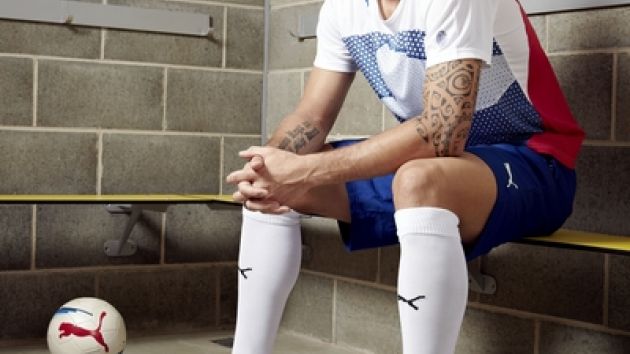 Arsenal star Olivier Giroud has renewed his personal endorsement contract with sports lifestyle brand Puma.

Having initially partnered with Puma in 2009, under terms of the extended agreement Giroud will continue to wear Puma boots in all competition for the foreseeable future.

In the current 2012/13 Premier League season the Arsenal striker will wear Puma's evoSPEED 1 FG.
"I have been wearing Puma Speed boots since 2009 and they have always given me great confidence to play to my potential," said Giroud. "Signing an international contract with Puma is another great and positive step in my career, I really enjoyed working with them in France and am excited to continue in this next chapter."
Puma senior head of global sports marketing Christian Voigt added, "Olivier Giroud is a gifted and intelligent striker and a wonderful player to have in our global player portfolio. His performances over the past season and his move to a top club in the English Premier League have reinforced what a key asset Olivier is for us. We are delighted about his progress, especially as he's such a likeable person and we've enjoyed working with him these past few years. We are proud to extend our partnership with him."
In extending with Puma the French international continues to be involved in a star-studded Puma lineup that includes Sergio Agüero, Radamel Falcao, Samuel Eto'o and Mario Gomez amongst numerous others.