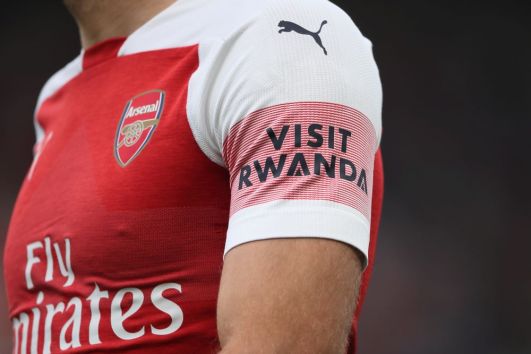 English soccer giants Arsenal approached Rwanda in order to set up the pair's controversial UK£30 million partnership, it has been claimed.
Emmanuel Hategeka, the chief operating officer of the African country's national development board, made the comments in a radio interview on Kigali-based station KT Radio 96.7FM.
The government of the poverty-stricken nation, whose president Paul Kagame is an avid fan of the Premier League club, agreed the three-year sleeve sponsorship promotional deal with the Gunners before the start of the 2018/19 Premier League season.
Hategeka explained that the deal, which has received international criticism from several countries owing to Rwanda's recent reliance on foreign aid, was the idea of the north London club.
He said: "By the way they approached us because they love Rwanda.
"They said 'by the way can we do something together. And if so what could that be? How could we promote you? How can we work together?'"
Kategeka also spoke of the importance of the deal to the country, highlighting the importance of the tourism industry to one of the world's poorest nations. According to CNBC, the leaders of Japan and India last month pledged more than US$300 million in combined loans to the landlocked country.
Hategeka added: "Beyond the complaints, beyond the noise, beyond the headlines that we have seen around this visit Rwanda campaign, it remains one of our biggest campaigns in terms of promoting our tourism industry in Rwanda.
"Tourism is our leading foreign exchange earner having generated over US$480 million in foreign exchange for 2017.
"Secondly, we have a target to double that to over US$800 million (UK£619 million) by 2024. Third, we have a strategy to achieve that. I wouldn't want to look at the Arsenal deal in isolation of every other thing that we have been doing to promote tourism in Rwanda."
More than UK£1 billion has been given to Rwanda since 2016. The United Kingdom and the Netherlands, who have both been at the fore of the foreign aid, have displayed their disapproval to the deal.
At the time of the deal, Dutch MP Isabelle Diks said: "When the international community is making such efforts to tackle terrible poverty in Rwanda, a deal like this seems so wrong."
British digital newspaper The Independent approached Arsenal, but the club declined to comment on the quotes from the Visit Rwanda representative.
However, the club's chief operating officer, Vinai Venkatesham, said at the time of the launch of the agreement: "This is an exciting partnership which will see us support Rwanda's ambition to build their tourism industry.
"The country has been transformed in recent years and Arsenal's huge following will bring Rwanda into people's minds in a new and dynamic way."