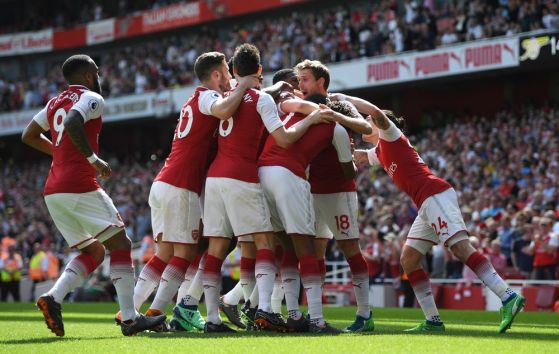 In the wake of reports that minority stakeholder Alisher Usmanov is set on selling his 30 per cent share in English soccer giants Arsenal, Africa's richest man, Aliko Dangote, has restated his intention to buy the club.
The Financial Times reported that Russian billionaire Usmanov is looking to sell off his minority stake in the Premier League outfit after failing to broker a takeover deal with the club's majority shareholder, US businessman Stan Kroenke. Usmanov's limited holding means he has little active say in Arsenal's running and does not hold a seat on the board.
Now Dangote, 61, has said that even if Usmanov strikes a deal to offload his stake to Kroenke, he remains confident of taking full ownership of Arsenal, but only after completion of an oil refinery project in his native country.
"We will go after Arsenal from 2020 ... even if somebody buys, we will still go after it," Dangote told Reuters.
Last year, Dangote's interest came to light when he insisted the right offer would tempt both Kroenke and Usmanov to sell to him.
"If they get the right offer, I'm sure they would walk away," said Dangote. "Someone will give them an offer that will make them seriously consider walking away."
Meanwhile, Arsenal have moved to deny reports that Ivan Gazidis is set to step down as chief executive of the club in order to take on a new role with Italian giants AC Milan.
Reports in the Italian media suggested Gazidis was close to joining the Serie A outfit under their new management structure. However, Arsenal chairman Sir Chips Keswick has issued a statement saying that Gazidis is "fully committed" to the club.
Keswick said: "We are aware of the speculation surrounding our chief executive Ivan Gazidis. We know he receives many offers from organisations inside and outside the game as he's a hugely respected figure.
"He has never accepted any of these opportunities and has never spoken about them publicly. He has always been fully committed to taking Arsenal forward and is currently working hard in Singapore with our new head coach Unai Emery as we prepare for the new season."