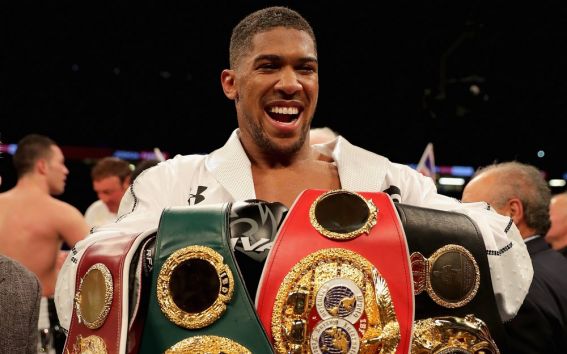 British boxing superstar Anthony Joshua has signed an extension with Matchroom Boxing tying him to Eddie Hearn's promotional company for another three years.
The new deal will see the undefeated world heavyweight champion fight on Sky Sports Box Office for the duration of the agreement, starting with his unification bout against Russia's Alexander Povetkin on 22nd September.
Joshua, who last year was named the most marketable athlete in the world, has enjoyed great success since turning professional with Matchroom in 2013, and now holds the WBA, IBF, WBO and IBO heavyweight crowns.
The 28-year-old's next two fights will see him return to London's Wembley Stadium, the scene of his sensational triumph over Ukrainian great Wladimir Klitschko back in April last year. The second of the two bouts is scheduled to take place on 13th April next year, which could see Joshua finally face American WBC world champion Deontay Wilder in a historic – and likely lucrative - unification bout.
"When I decided to become a professional boxer I felt the boxing market was stagnant and in need of new energy, both Matchroom and Sky have backed me and have given me opportunity after opportunity and I will always deliver," said Joshua.
"They've worked very hard to give me a platform to showcase my skills and tell my story. So choosing to renew our deal was always a matter of when not if. We have created history together and we are dedicated to keeping the UK scene in high demand for all boxers and boxing fans, but for me personally, the journey is nowhere near finished yet."
"I am delighted to extend our promotional agreement with Anthony and also extend his relationship with Sky Sports," added Hearn, Matchroom's managing director. "Anthony is a huge part of the Matchroom family and we have been with him from the debut to unifying the world heavyweight titles. He is the biggest star in the sport and we look forward to more success, more iconic nights and seeing him become undisputed heavyweight champion."