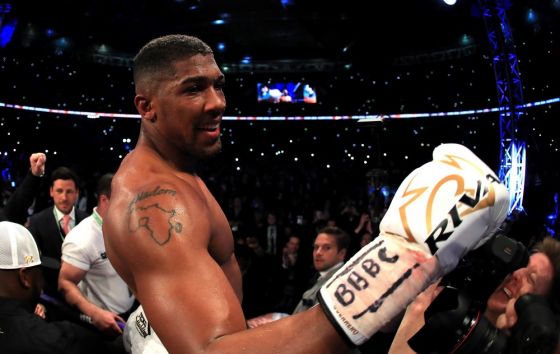 British boxing star Anthony Joshua's next two fights will take place at Wembley Stadium, promoters Matchroom Boxing have confirmed.
The heavyweight world champion, 28, will return to the scene of his sensational triumph over Wladimir Klitschko on 22nd September and 13th April next year. Since beating the Ukrainian in April 2017, the WBA, IBF and WBO champion has fought twice at Cardiff's Principality Stadium.
Joshua's opponents for the two fights are yet to be confirmed, but it is expected that he will face Russia's Alexander Povetkin, the WBA's mandatory challenger, first, with a view to finally facing American WBC world champion Deontay Wilder in a historic unification bout in April.
"Being north London born and raised it [Wembley] is in my blood," said Joshua. "The opportunity to fight in such an iconic stadium is normally a once in career opportunity, so to be given the chance to fight there again is amazing. Wembley just added a fourth lion to the den."
Nailing down a location has proved to be a sticking point so far in Joshua's representatives' negotiations with Wilder's team, with the American keen to prise the Briton away from the UK for the first time. However, this deal means that if an agreement is reached for the showdown to take place in April 2019, it will be staged at England's national stadium.
Joshua's promoter Eddie Hearn said on Twitter that Joshua's fight in September will be limited to 90,000 spectators, although he expects the April bout to have an extended capacity of over 100,000.
Mayor of London Sadiq Khan has ensured that it will be possible to fulfil those quoted capacities at both events by holding talks with Transport for London who will now postpone planned engineering works and provide additional staff.
"I don't think anyone will either forget that night of 29th April against Klitschko and we plan to bring two more dramatic events to Wembley Stadium in September and April," added Hearn. "Images from these AJ events make our country the envy of the boxing world and long may it continue."
"AJ's last appearance at the national stadium was a record-breaking event which will be remembered as one of the highlights in the venue's history," said James Taylor, senior commercial manager at Wembley. "We look forward to welcoming Anthony and his thousands of fans back to Wembley for two huge fights in September and April."