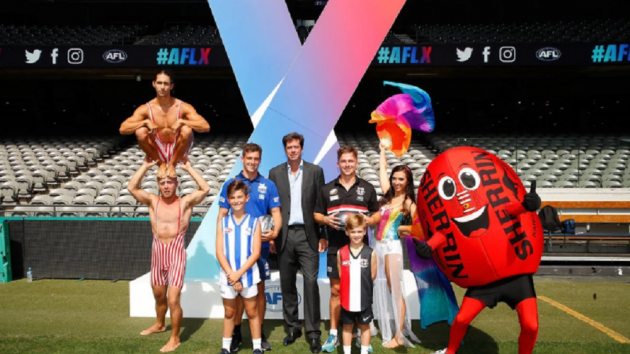 The Australian Football League (AFL) has launched a new short-form competition, AFLX, which aims to bring the sport to an international audience.
The so-called 'Twenty20 of Australian rules football', the details of which were first revealed in June 2017, will be staged for the first time from 15th to 17th February in the Australian cities of Melbourne, Adelaide and Sydney.
Each day will feature two pools of three teams playing off before a grand final is held at the end of each day.
AFLX will be played on rectangular pictures 60 to 70m wide by 100 to 120m long, which is the size of an association soccer pitch, with four posts at each end. AFL is traditionally played on oval-shaped fields, with similar dimensions to cricket fields, a feature which has been cited as an obstacle the sport faces growing internationally due to the lack of oval-shaped pitch availability in other countries.
The mini-series will use silver balls and there will be ten players on each side, with no restrictions placed on rotations and no marks paid on backwards kicks, except in the forward 40m area.
Kick-ins will be taken from behind the goal line after all scores, and at least two players from each team must start each quarter inside each 40m arc.
The AFL pre-season has been reduced to two matches per club so as to fit AFLX into the pre-season fixtures.
A further tournament in Hong Kong has also been provisionally set for later this year.
The AFL last year became the first major overseas sports league to stage a regular-season encounter in China when AFL teams Port Adelaide and the Gold Coast Suns played at Shanghai's Jiangwan Stadium.
AFL chief executive Gillon McLachlan, chief executive at the AFL, said: "We have had trouble taking our game internationally. This is not our traditional game, AFLX, but it's got all the best bits of it.
"It means that we could go to Hong Kong in November next year not only with two clubs, but we could take six clubs and play a mini-tournament. To take our game and showcase all the best bits of it, and actually not have to build infrastructure like we did in Shanghai, for example, that presents a huge opportunity."
McLachlan added: "Everything that's new you need to be realistic about. We'll look at general interest and that comes through in ratings and crowds and the quality of play. We won't have hard and fast metrics. We'll be realistic because it's new and it's different, but we think this has an opportunity and I know the clubs and players are supportive."
"I don't think we need to build new grounds, it'll be a bit of back to the future. We have an amazing network of suburban grounds but they probably need some investment."
Meanwhile, the AFL has named ice-cream manufacturer Zooper Dooper as a primary supporting partner of AFLX.
As part of the agreement, a ten-point 'Zooper goal' will be awarded to any player who kicks a goal on the full outside the 40m arc, or from directly in front as a penalty for deliberate rushed behinds.