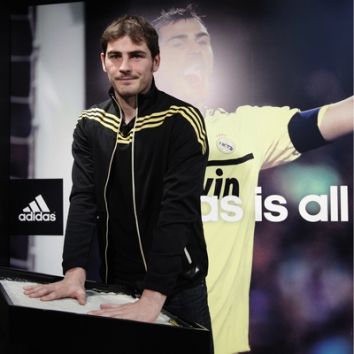 Adidas will continue its kit supply deal with Real Madrid until the end of the 2019/2020 season.

The Spanish league soccer champions have confirmed the news in their annual financial report issued to socios, or club members. Sources in Spain indicate that the renewal will be worth around €32 million (US$41.15 million) a year.
The club also revealed that it had recorded increased revenues of €514 million from its soccer activities - excluding transfer revenues - in 2011/12, up seven per cent from the previous year. Its net debts now stand at €126 million, down 26 per cent on last year.
The consolidated budget for the 2012/13 season will be €517 million.
On the field it has been a difficult start to the season for Real Madrid, with two defeats in the opening seven games leaving Los Merengues seventh in the table, eight points behind leaders and bitter rivals FC Barcelona.
Picture shows Real Madrid goalkeeper Iker Casillas during the unveiling of his Adidas sponsorship at Santiago Bernabeu stadium in Madrid on 12th January, 2012.