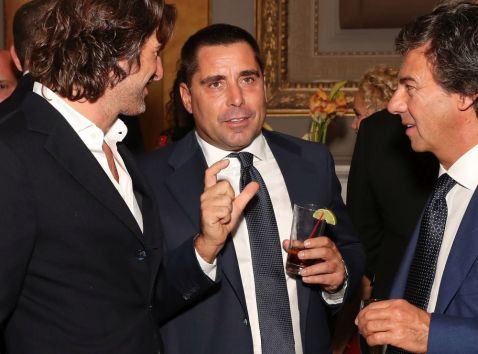 Italian businessman Riccardo Silva is set to take a minority stake in Italian soccer giants AC Milan, according to a report from SportBusiness International.
Milan-born Silva's investment comes in the wake of the Serie A club's takeover by US hedge fund Elliott Management Corporation, following the failure of Milan's Chinese former owner, Yonghong Li to repay a €32 million (US$37.4 million) loan to the fund.
Silva, 48, owns London-based Silva International Investments, whose portfolio includes shares in the MP & Silva - the sports marketing agency he founded, the North American Soccer League (NASL) outfit Miami FC and SportBusiness Group. Silva was also previously chief executive of the club's TV channel, Milan Channel.
According to the report, Elliott are keen on Silva's presence as co-owner since it returns Milan to Italian hands, which is likely to play well with the supporter base after a lukewarm relationship with the elusive Li.
Milan has also been linked to several other potential takeover bids, chiefly from the Ricketts family, owners of Major League Baseball (MLB) franchise the Chicago Cubs, and Rocco Commisso, owner of the NASL's New York Cosmos. According to SportBusiness, the involvement of Silva will be the only external investment Elliott seeks in the immediate future.
On Tuesday, Elliott announced that it had assumed control of Milan and would seek to create stability and establish sound management in order to achieve long-term success for a club dogged by financial sustainability issues and that had recently fallen foul of Uefa's Financial Fair Play (FFP) regulations. Initially Elliott will inject €50 million (US$58.5 million) of equity capital to stabilise the club's finances.
Paul Singer, founder and co-chief executive of Elliott, said of the takeover: "Financial support, stability, and proper oversight are necessary prerequisites for on-field success and a world-class fan experience."
Li's missed payment of €32 million (US$37.4 million) to Milan was the final part of €120 million (US140.5 million) he had committed to pay the club as part of his company Rossoneri Sport Investment Lux's deal to acquire it from long-term former owner Silvio Berlusconi in 2017.
Elliott agreed to provide Rossoneri Sport Investment Lux with €180 million (US$210.6 million) to complete the purchase, plus a further €128 million (US$150 million) to aid investment in the playing squad. The loans, with an average interest rate of just below ten per cent, had to be repaid by October 2018.
Elliott stepped in to make the €32 million payment and had the ability to secure full control of Milan if Li failed to pay it back by 6th July.