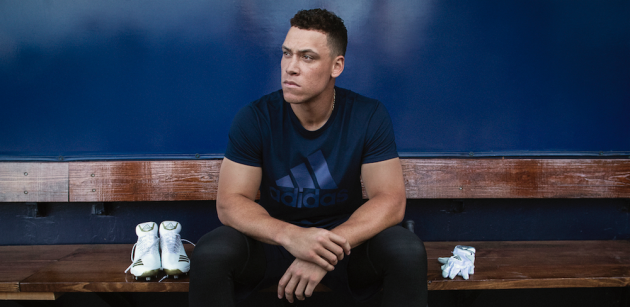 Major League Baseball (MLB) star Aaron Judge has signed a multi-year endorsement deal with German sportswear giant Adidas.
Starting from the 2018 season, the New York Yankees right fielder, 25, will exclusively wear Adidas Icon cleats during every game. The American League's (AL) rookie of the year will also feature in Adidas marketing campaigns and collaborate with the company on the design of future footwear, training apparel and equipment.
Judge, who hit more home runs last year than any other rookie in MLB history, joins a roster of Adidas baseball athletes which includes Kris Bryant of the Chicago Cubs and 2017 World Series champion Carlos Correa of the Houston Astros.
The partnership signals the end of Judge's equipment deal with US sportswear brand Under Armour, who he teamed up with back in 2014. The tie-up with Adidas marks the latest in a string of endorsement deals recently signed by Judge, including agreements with Fanatics and Pepsi.
"Adidas has a ton of momentum and everything the brand is doing right now stands out from the rest and challenges the status quo," said Judge. "I couldn't be more excited to be joining the Adidas family. I've been a fan of Adidas for a long time and from the beginning of our conversations, this just felt right to me. I never dreamed of an opportunity like this and I can't wait to see what we create together."
"What's most exciting for me is how much is still ahead for Aaron," said Mark King, president of Adidas North America. "He's one of the best young athletes in baseball today. He brings so much talent to the sport, and when you combine that with his passion and work ethic, it's clear he's setting himself up for an extraordinary future.
"We're ready to officially kick off our partnership with Aaron and start creating some really cool things together."
Judge's Yankees team begin the new MLB season with a trip to the Toronto Blue Jays on Thursday.