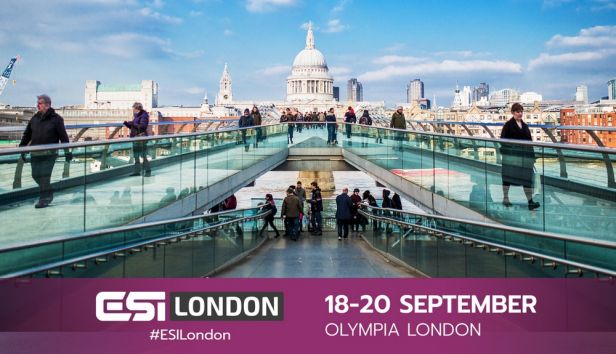 Have you fully explored the hype around esports yet? Now's your chance. And if you have, then it's time to delve deeper. ESI London (18-20th September) - the biggest esports conference of the year - will arrive next month, and it's set to be an unmissable event.
With over 400 in attendance, including owners and CEOs of some of the world's largest teams (Fnatic, CompLexity Gaming, Ninjas in Pyjamas, Team Vitality and more), as well as speakers from the world's most established tournament organisers (ESL, FACEIT, and Starladder to name just a few), alongside plenty of other key stakeholders throughout and around the industry, it's the prime opportunity to learn from, and network with, the key decision makers across the esports ecosystem.
Taking place at Olympia London on September 18-20th, ESI London is a perfect precursor to the FACEIT Major - the $1 million CS:GO tournament - which be wrapped up at the SSE Arena Wembley in the days immediately following the conference.
Kicking things off on the evening of the 18th, we're hosting a get-together, including drinks and food, so you can network with industry professionals and potentially make some key contacts before the exhibition doors even open. Those doors to Olympia London will open in the morning of the 19th,with a jam-packed day full of thought-provoking workshops, panels and live debates on hot topics such as how to effectively build a brand in esports, if franchised leagues are good for the industry at large, the history and potential of sim racing, legal challenges (there are many), the ins and outs of running a team, and plenty more.
The third and final day - the 20th - is geared primarily towards betting on esports. With live sessions from Betway and Ninjas in Pyjamas discussing their partnership, to turning attendees' attention to a growing trend in casinos welcoming esports, the unique data challenges present when offering odds across different esports titles and more, there's a wide variety of topics that are sure to give you some well-rounded knowledge in one of the most exciting emerging industries going. There will also be an ESI Seminar Sessions track going on too over the two days with more focused and intimate sessions, giving attendees more of a chance to engage directly with the speakers throughout.
Here's what Kieran Holmes-Darby, Managing Director of exceL Esports has to say about the ESI conferences: ""I'm really looking forward to ESI London. Esports Insider always put on the best events, with fantastic networking opportunities and epic after-parties."
PwC agree with Kieran too, and had this to say after getting involved with ESI Birmingham back in May: "It was a fantastic event providing an invaluable amount of insight on esports, which is testament to the strength of ESI's relationships within the esports industry. We are looking forward to the next event already!"
Over both the 19th and 20th too there'll be an exhibition zone open with companies showcasing their products and services geared towards the industry; including the likes of Abios, ChiliZ, ESL, PandaScore, UItraPlay, Sportradar, ESIC, PwC and more.
There will also be an interactive zone with a place to play some games and do some more 'chilled networking', alongside the usual media and press area, spaces for meetings, refreshments (including breakfast and lunch each day) and other surprises.
Esports Insider Managing Director and Co-Founder Sam Cooke, said of the event: "This is our ninth event and will be our biggest yet. We always make sure our conferences are the right mixture of business and fun, so you can play some games in the 'Network & Chill' zone and then follow it up by sharing a coffee with the decision makers at some of the world's biggest esports teams and companies.
"We've also the largest exhibition zone at a dedicated esports business conference in history, so there'll be plenty to do, and people to meet. We pride ourselves on building out informative and engaging panels and workshops too; and this event is no different - it's just that there's a lot more of it."
Why should I attend ESI London?
If you want to better understand esports - whether it's grasping exactly why it's growing so rapidly or better acknowledging how it came to be - you'll find the answers here. There's a lot of talk on whether esports fits into traditional sports at all, and after talking to professionals, you'll definitely leave with a better understanding of why people get the same rush from esports as they do with football, boxing, and the rest of the big sports. It all boils down to one main thing: the thrill of high level competition.
There will be over 400 attendees joining us in London to listen to over 60+ leading speakers across the three days, and that's not all. Esports Insider are well-known in the industry for their events' after-parties, and there are no less than three taking place each evening across the 18, 19th and 20th September.
We're saving the best for last too - the closing party will be located at none other than the iconic Natural History Museum! This will also feature the inaugural awards show for our recently announced ESI Hall of Fame.
Whether you're looking to find out more information or are ready to book your spot before it's too late, you can do so here!
Tickets are currently available at a 20% discount for August too - simply enter the code ESIAUG at checkout. Any questions, reach out to info@esportsinsider.com