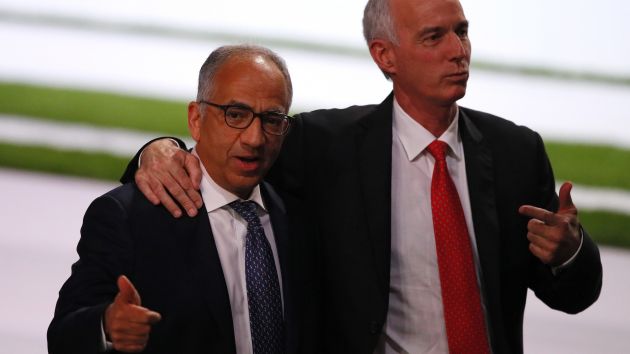 The Fifa congress has awarded the 2026 World Cup to the United Bid following a vote during the soccer governing body's 68th Congress in Moscow, Russia.
The North American bid took the vote from the 203 eligible Fifa associate delegates by 134 to 65 to beat its rival bid from Morocco, with one vote for neither party and two attendees failing to register an entry.
The bidding members and three US territories - Guam, the US Virgin Islands and Puerto Rico - recused themselves from the process.
"Thank you for entrusting us with the privilege of hosting the FIFA World Cup in 2026," Carlos Cordiero, president of the US Soccer Federation (USSF) told Congress. "Football today is the only winner."
Cordeiro has said his bid would generate US$14 billion in revenue and make an US$11 billion profit for world soccer's governing body. The bid also expects record ticket and hospitality revenue.
The result is a boost for Fifa president Gianni Infantino, who while he maintained neutrality during the campaign, was known to be keen to see the first expanded tournament be held in North America.
The 2026 tournament will be the first expanded tournament featuring 48 teams, up from the current 32-team format being used in Russia from Thursday.
Both bids were given a last chance to make their case with 15 minute presentations in front of congress, at the Moscow Expocentre, with the United Bid re-affirming its pledge that its tournament would generate an US$11 billion profit, whilst the Moroccan delegation stuck to its more moderate US$5 billion profit projection.
Although it will be the first tournament to be hosted by three nations, the vast majority of games will be held in the Unites States. Of the 80 games, ten matches will be held in Canada, ten in Mexico and 60 in the US, with the final played at MetLife Stadium in New Jersey.
The US previously hosted the World Cup in 1994 while Mexico hosted it in 1970 and 1986. Canada has never hosted a men's World Cup but held the women's tournament in 2015.
Morocco have now failed in five bids to host a World Cup.
The last time Fifa voted on World Cup hosting rights was in 2010 with the decision resting with the now defunct executive committee and they chose Russia to host the 2018 tournament and Qatar for 2022.
Several members of that committee were later banned from the sport after they were caught up in the corruption scandal that engulfed world football's governing body in 2015.
Under Fifa's new system for choosing the host, all eligible soccer federations who attended the congress were given a vote.