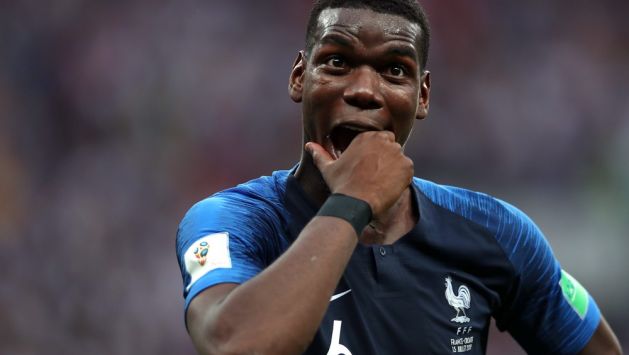 1
SEE FULL LIST
65.1
3
---
French, 25, Soccer
The world-beater making moves on his terms
Representatives: Mino Raiola
Key partners: Adidas
---
For most soccer players winning the World Cup would be the pinnacle of their career; for Paul Pogba, lifting the beautiful game's most coveted trophy somehow seemed like a step towards something bigger. This is a hugely talented young man who has been the world's most expensive player, an international star bestowed the responsibility of pulling the strings at arguably the best known and most followed sports brand on the planet.
And yet still there is a sense that he has plenty left in the tank.
At 25, Pogba is a leader and a lynchpin for club and country. A brilliant World Cup in Russia culminated with a famous victory for France and a memorable goal in the final. That crowning moment was just reward after a string of admirably mature and masterful performances that hinted at the possibility of a more disciplined role at the heart of Manchester United's midfield.
Another big-money transfer to another European powerhouse may or may not materialise, but one thing is for sure: Pogba is always on the move. Even surrounded by a galaxy of stars, he sparkles like few athletes can, exuding his signature style and characteristic swagger at every turn. Life under United boss Jose Mourinho has at times been fractious but when big egos collide, people talk. In fact, when Pogba does anything, people talk. A photogenic a-lister who attracts as much attention for his ever-changing hairstyle and trend-setting dance moves as his always-scrutinised on-field displays, he is the archetypal modern-day athlete, ripe for a crossover marketing campaign and worthwhile fodder for tabloid column inches.
And therein lies Pogba's allure. There will be haters and there will be doubters but world soccer is not a popularity contest - just ask Cristiano Ronaldo or Neymar. Pogba has never been universally liked, nor will he ever be, but what sets him apart is his ability to turn scrutiny into motivation. Success for him is not only about proving the naysayers wrong - it is in bringing glamour to the unglamorous business of winning and not always scoring. That alone may ultimately limit the number of individual plaudits that come his way but it says nothing of the value he brings to the dressing room.
Off the field, Pogba's brand is building. Prior this summer's World Cup, Adidas positioned him at the forefront of its 'Creativity is the Answer' campaign having launched its new Pogba-inspired Capsule Collection in the shadow of the Eiffel Tower. On social media, too, he is something of an outlier. Athletes with follower counts as large as his tend not to have high engagement rates, yet the Frenchman generates significant value for brands in his promoted posts. In fact, no other athlete with such reach comes close. Even with a total following just shy of 39 million, Pogba generates an impressive US$5.72 in media value per follower, according to data provided by Hookit. By comparison, that amounts to more than the second and third most followed athletes on the planet - Neymar (202 million-plus) and Lionel Messi (187.5 million) - who drive US$0.86 and US$0.91 respectively.
Whether that justifies his selection at the apex of this list is up for debate. What is certain, though, is that Pogba is a unique talent at the top of his - and the world's - game. ML
---