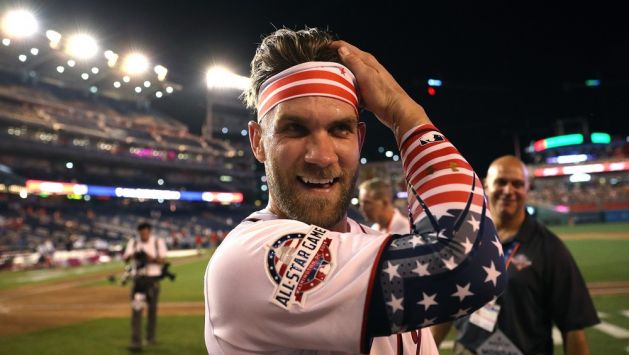 13
SEE FULL LIST
35.7
22
13
---
American, 25, Baseball
Baseball bad boy set for mega money
Representatives: Boras Corporation
Key partners: Under Armour, MusclePharm, Gatorade, New Era, Blind Barber
---
Major League Baseball's (MLB) reigning Home Run Derby champion will become a free agent after the 2018 season, when he is expected to sign the largest contract in league history. According to reports, US$400 million could be on the table.
With a raft of individual accolades to his name, there is no denying that Harper, at 25, has become a face of MLB. The Washington Nationals' outfielder often polarises for his flashy demeanour, both on and off the field, making him as much of an entertainer as he is a player.
Given the moniker "Baseball's Chosen One" by Sports Illustrated as a 16-year-old, Harper has branded himself exceptionally well. When he inked his ten-year partnership extension with Under Armour two years ago, it was the largest endorsement deal in the history of the sport. Unlike Mike Trout, another relatively young MLB superstar, Harper is adept at marketing himself. He has used his image to boost his 'BH34' brand to great effect, and his signature hair flip is now tied to Blind Barber hair products, with whom he has his own line.
This coming off-season, the baseball world will watch intently as Harper selects his future team. A big-market destination surely awaits. MA
---