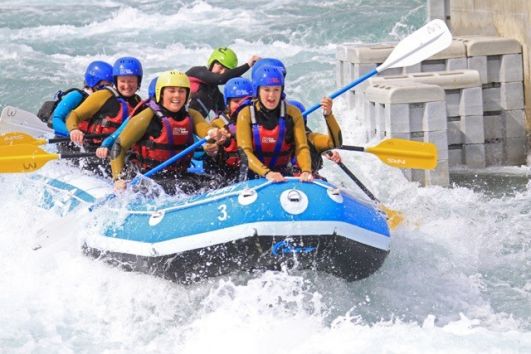 Lee Valley Regional Park Authority and British Canoeing have today an exciting range of commercial opportunities developed to support the growth of paddle sport in the UK.
Hosted by sports broadcaster Laura Winter, The Big Idea was presented to business leaders at Lee Valley White Water Centre, the iconic venue built to host canoe the slalom events at the London 2012 Olympic Games, which is now a thriving sports and leisure hub.
The Big Idea is a package of commercial opportunities comprising:
The naming rights for Lee Valley White Water Centre
Partnership opportunities with the British Canoeing Olympic and Paralympic teams in slalom, sprint and paracanoe
Partnership opportunities with British Canoeing's participation programme Go Canoeing and the National Go Canoeing Week campaign
Partnership opportunities around the 2019 ICF Slalom World Cup and the 2020 ECA European Slalom Championships, being held at Lee Valley White Water Centre
Shaun Dawson, chief executive of Lee Valley Regional Park Authority said:
"Lee Valley White Water Centre has a seven year track record as a successful world class venue that has attracted over two million visitors.
"It has already delivered an enduring London 2012 legacy with vast amounts of community use, great opportunities for first timers, hugely popular commercial rafting and ever changing leisure activities, seamlessly blended with a stream of major events, a proven athlete development programme and being the home of GB's canoe slalom team.
"We own three London 2012 legacy venues which between them have hosted 20 major international events since the Games. The Big Idea presented today creates the chance to work with commercial partners to take the development of the centre and our relationship with British Canoeing to the next level."
David Joy, chief executive of British Canoeing said:
"We are delighted to be launching the Big Idea with Lee Valley Regional Park Authority and presenting a range of exciting opportunities for commercial partners to engage in a growing sport.
"From encouraging more people to take up paddling through Go Canoeing, to supporting our highly successful British Olympic and Paralympic teams and backing international events being hosted in the UK, the Big Idea provides a broad range of opportunities for partners
"This unique offer that we have created with Lee Valley Regional Park Authority is fully in line with our strategic plan and is a classic example of 'Stronger Together' working in practice."