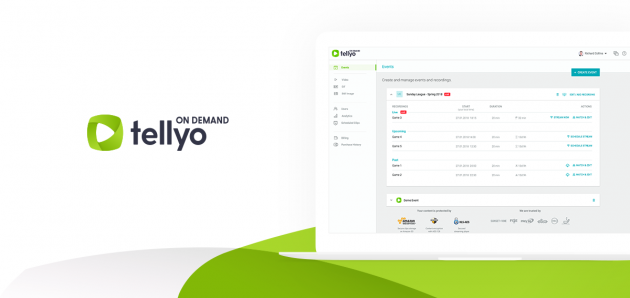 The announcement came as part of the company's pitch at last weekend's 10th annual SXSW Accelerator Pitch Event held in Austin, Texas, between 9-18 March 2018.
The SXSW Accelerator Pitch Event brings together leading-edge technology companies as finalists to pitch their offerings to a panel of 40+ judges, including industry leaders and experts from top venture capital firms. As a finalist in the Sports and Performance Data Technologies category, Tellyo pitched its company and platform, also using the event as an opportunity to announce its new On Demand solution.
Until now, Tellyo has been available on a subscription-based contract only via Tellyo Pro. The platform enables sports organisations and rights holders, broadcasters and media production companies to live stream content and easily create engaging videos to share on social media in real time.
Built on the same platform as Tellyo Pro, On Demand is for organisations of all sizes, especially ones that will have infrequent or irregular content. These organisations want to use a video production platform as and when the need arises. It does not make sense for them to pay a monthly fee or have an annual contract.
On Demand will offer instant access to Tellyo's cloud-based video production platform on pay-as-you-use terms. It was developed following multiple conversations within the industry, which identified a united ambition amongst companies to create and share high-quality video, but different market needs regarding the quantity and regularity of content. Ultimately, Tellyo On Demand now means more organisations will have access to a platform that enables them to engage audiences more effectively with video content online.
Tellyo On Demand will be available at the beginning of April 2018 from www.tellyo.com/ondemand, where you can sign up now for launch updates.
Tellyo CEO, Richard Collins, said: "At the beginning of April we will formally launch Tellyo On Demand – a market-first that will enable us to empower even more teams to amplify their video content and engage with audiences more effectively online. It is an opportunity for these teams, who may have less frequent video content, to get the very best from our platform.
"At the SXSW Accelerator Pitch Event, we were delighted to pitch as part of the Sports and Performance Data Technologies category. We would like to thank everyone involved at SXSW Conference and Festivals – it was a truly inspirational event and a privilege to share the stage with such a stellar cast of leading-edge technology innovators."