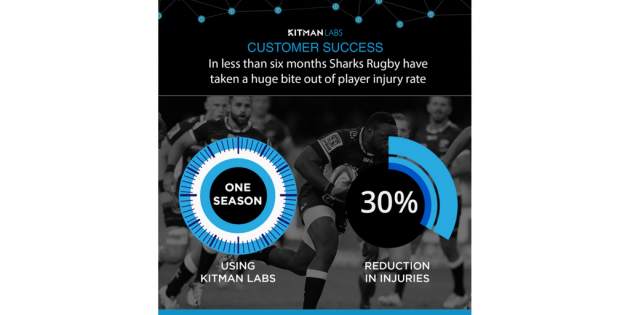 The Sharks, have been working closely with Kitman Labs to maximise their ability to maintain a healthy squad and reduce injury risk.
By integrating and analysing wellness data, readiness assessments, and training load data, the Cell C Sharks coaches have a consolidated and clear picture of athlete status. With this new view, the Sharks can deliver accurate weekly load and training schedules that keep performance high and injury risk low.
Jimmy Wright, Sharks Biokineticist, said, "When it comes to giving yourself the optimal chance of winning rugby matches nothing can equal having healthy players available for selection. Kitman Labs have given us the eyes to see through the data and make informed real time decisions which have a positive effect on the organization and our ability to win rugby matches."
"Kitman Labs' product is outstanding and it has been very refreshing to engage daily with a company that understands our needs and requirements and can progress their product forward at such an incredible rate – something that is all too uncommon in this industry."
Stephen Smith, Founder and CEO of Kitman Labs, commented, "We are committed to ushering in a new era of performance and health optimization solutions that deliver impact on day one and for all users. The tangible results in just a single season are a testament to the Sharks' strategy and staff, and we look forward to a long partnership focused on innovation, excellence, and finding true meaning in athlete data."
For more information about Kitman Labs, go to www.kitmanlabs.com