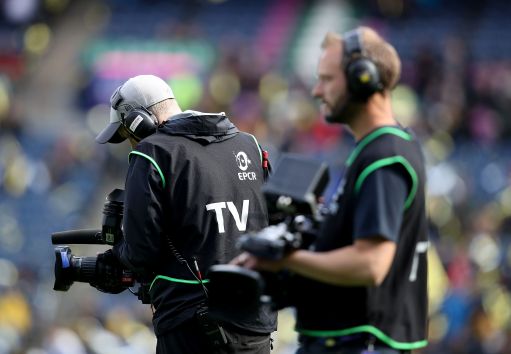 Creative and innovative proposals are welcome before the 6 December 2017 deadline from global and regional agencies or pan-regional and national broadcasters for rights split into two distinct packages - one of live matches and the other of highlights.
This tender process follows the successful conclusion earlier this year of broadcast deals for European club rugby in the United Kingdom and Ireland, and France, which have secured the opportunity to explore options for free-to-air coverage of all rounds of the Champions Cup in those territories for the first time.
The process will be managed by The Sports Consultancy who have worked with EPCR on a wide range of commercial and strategic projects including the bidding and appointment of the 2018 and 2019 Finals host cities.
The tender will further extend their strong portfolio of consulting in rugby and their growing expertise in sports broadcast rights with international events and organisations.
The Champions Cup is recognised by players, coaches and fans as the 'one to win' in club rugby across the world. The 2017 Champions Cup final was broadcast to 95 countries and generated over 95 million social media impressions across EPCR's official social media channels alone.
EPCR Director General, Vincent Gaillard, said: "This is an exciting time for European club rugby and this international broadcast rights deal is very important with the aim of taking outstanding rugby experiences into households across the world. The broad commercial experience and innovative approach of The Sports Consultancy gives us a great platform for a clear and transparent tender process with the subsequent appointment of a family of broadcast partners who can support our ambitions to grow the global audience of our competitions."
The Sports Consultancy's General Counsel, Ashley Blake, said: "We are delighted to be working with EPCR on this exciting tender and are confident that we will help EPCR to deliver its desired results. As a business, we have ambitions to further grow our presence and reputation in broadcast rights consulting and build on our credentials from other broadcast work we have managed for our clients including the FEI, World Sailing and America's Cup and previous experience acquiring rights for NFL, European Championships football and major golf events."
Owing to their strategic importance, individual bids will be accepted for rights in the USA, New Zealand, Canada and Japan. Bids will be welcome for one or more of the following territories:
Global (excluding France, UK and Ireland, and USA)
Europe (excluding France, UK and Ireland)
Middle East and North Africa
Pan-Africa
Asia-Pacific
Latin and South America
USA only
Japan only
New Zealand only
Canada only